Why did you choose this program?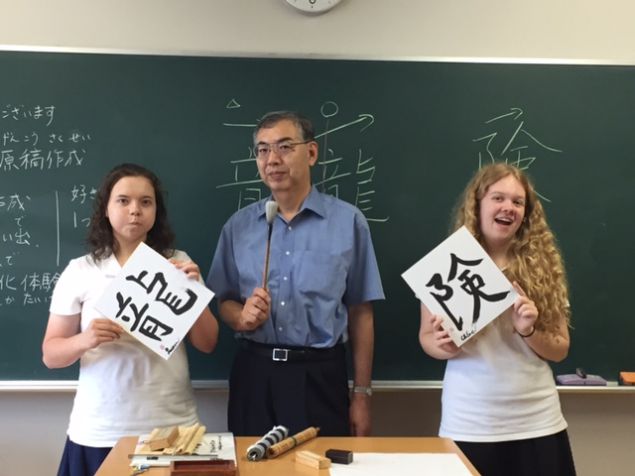 I chose this program because my Japanese teacher told me about how when he was 17, he traveled through Youth for Understanding to Okinawa, Japan and all the experiences he had.
Since my early teens I had dreamed of studying abroad in Japan and attending a Japanese high school.
I wanted to have the opportunity to practice my language skills while simultaneously making life-long friends. When my teacher told me that this dream could come true with YFU, I was overjoyed!
What did your program provider assist you with, and what did you have to organize on your own?
YFU was there with me every step of the way. Of course, I had to complete the application by myself and acquire all the necessary documents, including a passport, but they were always ready and eager to answer any questions I had.
Once I learned of my acceptance, they quickly told me what I needed to do next, how to prepare, and even gave me information about my host family!
What is one piece of advice you'd give to someone going on your program?
One silly piece of advice I have is don't overpack. I brought way, way too many clothes with me and only ended up wearing half of them. Plus, all the extra luggage made it difficult to pack all the souvenirs I had to bring back. Luckily, my host mom helped me get everything together!
What does an average day/week look like as a participant of this program?
During the week I would attend school with my host sister. We had an hour train ride, but some people end up living closer to their school (but, the trains in Japan are super cool anyway).
After school I generally went to a club or some of my friends would take me shopping or show me around the town. As for the weekend, my host family usually had something planned for us to do, or I would go to a school activity with my host sister.
Going into your experience abroad, what was your biggest fear, and how did you overcome it and/or how did your views on the issue change?
Honestly, my biggest fear was meeting and interacting with my host family. I'm already an awkward enough person around people who speak my own language, so I was a bit intimated at the prospect of living with a different family who didn't speak the same language as me.
But all my fears were for naught; my host family were the sweetest people I have ever met, and even when we did have trouble communicating they did their best to try and understand me. Staying with a host family was actually one of the best parts of the whole experience!
What is your favorite story from your time abroad?
Here's one little story I have. As I said before, my host sister and I had to take the train to and from school during the week. It was already around a week into my exchange, and I was starting to get used to the routine.
One day after school my host sister told me she had homework and such to work on at school, and asked me if I would be okay going home alone. I said, "Yeah! I got this!", and so she told me which train to get on and what time it was leaving. However, it wasn't until I boarded the train that I realized I had forgotten to ask her which stop was ours.
So I sat there for an hour terrified that I would miss my stop. Luckily, there were signs with the town name and the train workers announced it right before we got there. Long story short, make sure you know where you're going!