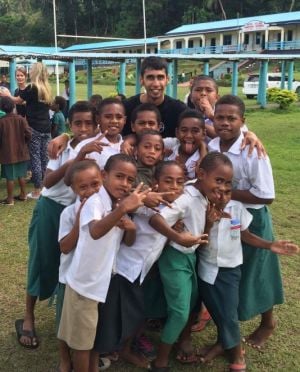 Why did you choose this program?
Well for starters it chose me, and it had everything I needed to get me that one step closer to being a P.E. teacher.
Also, when given the opportunity to explore another part of the world, you would be a fool to say no. It was a fantastic opportunity to learn and make an impact.
What did your program provider assist you with, and what did you have to organize on your own?
Our tutor (Matt) provided us with resourceful materials to get our level 3 in teaching, it was very helpful during the workshops as well as our time in Fiji. Our itinerary was pretty much set, all we had to do was organize the flight and accommodation if we arrived a few days early (as I did).
What is one piece of advice you'd give to someone going on your program?
Have an open mind, ignore your world, and explore theirs. I've learned so much and I want to continue to learn and travel.
What does an average day/week look like as a participant of this program?
The program was fantastic, we were always busy - but in a good way. After our 3 hours of teaching we would do an activity, for example, a jungle walk. This was brilliant, we even tried coconut water!
While in Fiji, you won't feel bored or overwhelmed, you'll be in your zone and you want to keep going. Two weeks goes so quick, trust me!
Going into your experience abroad, what was your biggest fear, and how did you overcome it and/or how did your views on the issue change?
I'm studying sports at uni but unfortunately I'm no good at water sports. When we went to beach comber island (paradise) we had the opportunity to do some snorkeling.
I can't swim, I never really learned as a kid and I've always been a little scared, So I thought I would sit this one out. I saw my group going in and they all wanted me to come in, but I couldn't. I then saw someone wearing a life jacket and he was floating, I had an idea.
I got the life jacket and stepped off the boat slowly - this was the first time I was in an ocean! I'm so happy with the support I got from everyone in my group, they were really helpful! Everything was overpowering, we were in the ocean! I only lasted two minutes, but it was worth it.