Why did you decide to study abroad with IES Abroad at Dublin City University?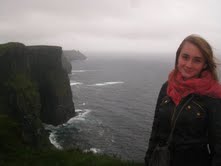 Sarah: Well I wasn't sure at first that this was the program I wanted to do, I was considering going to Rome because my school has a campus there. But my good friend wanted to go to Ireland and had researched the IES program and told me about it. I took interest in the program because I had done Irish dancing for a long time when I was younger and had always wanted to travel to Ireland. I ultimately decided to go there because I had a lot of anxiety about going abroad and decided that going to an English speaking country where one of my friends was going would be better for me. I didn't really know what to expect, it wasn't until I got there that I really came to love it.
What made this study abroad experience unique and special?
Sarah: What really made my experience special were the good friends I made. I became really close with every person in the IES program at DCU. I would now consider every single one of them one of my closest friends. There were about 11 of us and we all just clicked so well together in a way that I have not experienced before. I don't know if it was the bonding experience of being abroad together or that we were all just really compatible but those friendships were what really enhanced my time abroad. I also got pretty close with some of the IES staff even though we were not at the IES center with them. They would come to DCU a couple times a month for lunch and coffee and talk to us about our adventures traveling and give us advice on places to go and how to travel and such. So I guess the best thing about my experience was getting to know new people and feeling so at home with them in a new place.
How has this experience impacted your future?
Sarah: Academically, my experience has sparked interest in new topics of study. As a history major, I have concentrated more of my classes on studying Irish and English history since returning which was an interest I acquired abroad. I have also become more active with international organizations on campus because of the many good friends I made from various countries while abroad. I would definitely be more open to living abroad at some point in the future than I would have been before. I feel that my experience traveling to new places where I didn't know where I was going or didn't speak the language made me more independent and more able to handle difficult situations which are, in general, good skills to have for the future.