Why did you decide to volunteer with All Out Africa in Swaziland?
Eimear: I first volunteered with All Out Africa in July/August 2008. We had been put in touch with them through another volunteering agency. Myself and a friend signed up for 6 weeks Kruger to Coast volunteering experience. We are both Primary school teachers so this gave us a chance to use our summer holidays both for volunteering and enjoying Kruger and Mozambique!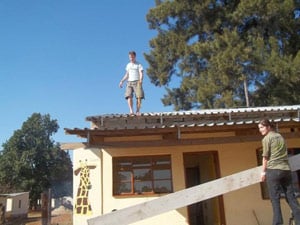 Describe your day to day activities as a volunteer.
Eimear: Our experience in Swaziland that summer was so brilliant that we decided to return in 2009 and stay for a longer period. We were working on a 'Build an N.C.P.' project. We were working with All Out Africa's builder, Michael, locals in the community and other international volunteers. We were clearing land, making bricks, digging, painting and plenty of other hard physical work... and I'm not fit or strong in anyway!
All the locals we met were incredibly friendly, and would always come along for a chat or to help out (especially if they thought we were struggling with some bricks!) We would work from 8.30 am until 2.00pm, with breaks and a lunch in between. It really was the best way to learn about day-today life in Swaziland!
In there afternoons we had the option of visiting the City hospital or helping out in a local Homework club. And some afternoons, we would take a break and relax in the beautiful lodge we were staying in. The staff in the All Out Africa office were there all afternoon to help out and to chat to about our experiences that day.
The lodge we were accommodated in is one of the nicest places I have ever stayed. It is a large lodge, with communal rooms of 4 or 6, and communal bathrooms. There is a large decking area to the front, with amazing views of the Ezulwini valley. Sitting at my laptop now, makes me wish I was back there just chilling out!! We were provided with breakfast, lunch and dinner everyday. We got to know so many people during our time there, there is a great social aspect to the set-up All Out Africa provided.
How has this experience impacted your future?
Eimear: Swaziland is somewhere I will visit many times again in the future. During my time there I made some great friends who I still keep in touch with regularly. The whole experience has made me appreciate the way of life of the Swazi people. I teach all the kids at home now about the Beautiful Kingdom of Swaziland!