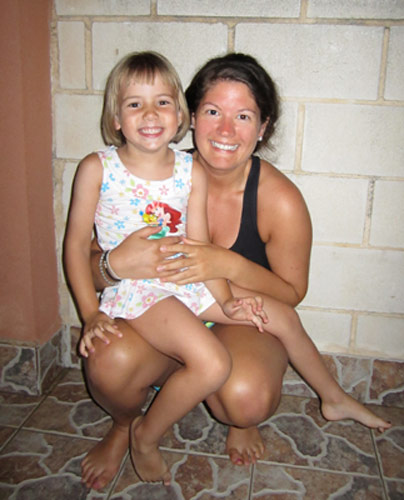 Why did you decide to volunteer with CHI in Spain?
Dana: As a recent college graduate, I wanted to travel before settling into my career. I found the CHI website and after reading about the program in detail, I realized this would be the best option for me because it would allow me to submerge myself in a culture, far beyond any touristy vacation. Living with a local family for three months would give me the best cultural and lingual experiences. It was comforting to know I would be living with a family who knew the area, and knew the people, and that alone made the adjusting process pass much faster.
Describe your day to day activities as a volunteer.
Dana: My situation is slightly modified because not only am I a English Conversationlist, I also volunteered to babysit the children of my family for a couple extra hours a day. My family has a 4 year old daughter, 8 year old son, and 16 year old daughter. The house I live in is right on the beach, so in the morning I take the children swimming, and afterwards I play English games with the 4 year old girl until lunch. Because the child is so young and her attention span is not yet matured, I work with her in a fun environment consisting of games and books so that she picks up English in more of a conversational setting versus a classroom setting. After I cook lunch, I work with the 8 year old boy for one hour on English exercises. When the parents come home around 5, I walk on the beach and spend the rest of the day relaxing.
What made this volunteer experience unique and special?
Dana: I really enjoy the fact that I am living with a local family. They take me to places and parties I otherwise would not be aware of as a tourist. My favorite thing is meeting other members of their family, which happens often since my family loves to have fiestas! What I like about my situation is that I get to experience two different lifestyles. My family has a house right on the beach, that we are staying in for the summer, so I get to experience a Spanish beach town, and then later we move back to the city when the children start school, so I get to experience city life in Valencia as well.
How has this experience helped you grow personally and professionally?
Dana: Learning another language was always on my bucket list, but I thought it would be something I would do via Rosetta Stone or a class in the United States. It didn't really occur to me how much Spanish I would learn living in the country for three months. I was a Communication Design major in college, and although that does not really have any correlation to languages, it does deal with communicating. When I return to the United States, I want to now find a way to incorporate speaking Spanish in my future job, which was not a concern to me before coming. I am working so hard to learn the language, I don't want to stop speaking it when I return.