Tell us a little about yourself and your trip.
Lawrence: My name is Lawrence Chen and I am from Vancouver, Canada. I am currently 24 years old and have graduated from the University of British Columbia with B.S. Psychology. I departed for my ISV trip last year on June 17th, 2011. I first went to Costa Rica to participate in ISV's Spanish immersion program. My first ISV volunteer project was done in Costa Rica, which began a week later and continued for two weeks. Afterwards, I flew to Ecuador to participate in my next two-week volunteer project. It ended on July 21, but I continued to travel with ISV on an adventure tour all over the country for an additional two weeks, which ended on August 4th. However, my trip didn't just end there. I traveled with ISV on a one-week excursion to Machu Picchu in Peru before heading home. The whole trip was a total of eight weeks.
Why did you decide to volunteer with ISV in Ecuador?
Lawrence: When I heard of ISV, I thought it was very interesting because of their diverse volunteer opportunities and adventure activities, both of which I like so much. When I attended their info session on campus, all their programs stood out as very interesting and got me all excited from just thinking about them. I wanted to see more of the world and experience things from different cultures. ISV's flexible schedules and customizable program options also appealed to me. I liked how I could choose my departure date, add on an additional excursion or program, and choose my preferences from a number of different exciting volunteer experiences.
Honestly, I was debating whether I should go South Africa or Ecuador, but I learned that if I go Ecuador, I could extend my volunteer experience by also volunteer abroad with ISV in Costa Rica, which was another program I really wanted to do. Furthermore, because the program could begin after my university graduation that summer, I felt like it was the perfect opportunity to do a lot of traveling. Therefore, I decided to volunteer abroad with ISV in Ecuador (and Costa Rica).
As to why I was interested in volunteer abroad in Ecuador, I wanted in do something that I thought was interesting but have never done before and would probably not do if everything I do is related to my career goal (which is to do research in psychology and neuroscience), and I wanted to learn about people's way of life that are very different from mine. Although many ISV programs offer something like that, I was particularly intrigued by the idea that I can work and live on a farm in Ecuador.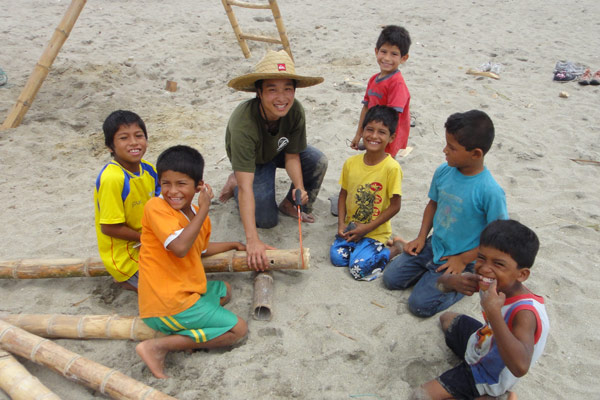 Describe your day to day activities as a volunteer.
Lawrence: I volunteered at Río Muchacho Organic Farm, a wonderful place near the popular beach town, Canoa. Our day to day activities were not always the same. Some days, we worked on the organic farm—weeding, hoeing, planting, and such. Other days, we went to schools in the local and faraway communities and worked on projects to improve the schools' environment and increase awareness of sustainable development. We constructed jungle gyms and slides, built gardens, banana circles, and speed bumps, painted a mural on a school wall, and helped with school maintenance. Of course, at the schools, we also had lots of fun playing with the children, and they were a big help with much of our work.
We often worked for about 3-4 hours in the morning until lunch, and then another 3-4 hours after lunch. Sometimes after lunch, we would do fun activities like hiking or making jewelry, such as rings made from tagua (vegetable ivory). We would always be back at the farm with some free time to relax or shower before dinner. We frequently had evenings free, but some nights, we would have interesting discussions about our day or about sustainable development. We often slept early because there weren't much to do at night, though, and we would be tired from the day's work. Nonetheless, many of us had to wake up an extra hour early in the morning on alternating days to clean the barn and feed the barn animals. This was part of our routine before breakfast. We also had the responsibility of helping with meal preparations and cleaning up after our meals and meals for tour guests.
What made this volunteer experience unique and special?
Lawrence: When volunteering abroad for a short time, volunteers are often limited to doing one or two major types of project, like only doing community development. I think this volunteer experience was unique and special because we had the opportunity to work on many projects related to community development, sustainability, and organic agriculture—like an all-in-one package. Through this experience, I learned a lot about organic farming and sustainable living, and had the pleasure of seeing children's thrilled faces when they sled down a slide for their very first time. If I'm given the opportunity to ever go back to Ecuador for a vacation, I would definitely want to return to Río Muchacho Organic Farm and volunteer, again.
How has this experience helped you grow personally and professionally?
Lawrence: My volunteer abroad experience has taught me a lot about different cultures and some global issues. I don't think I will change my career choice and work in agriculture, but it made me more appreciative of the hard work that farmers put in their fields and more aware of the sustainable lifestyle choices that I could make. I really enjoyed the experience and thought it was wonderful how it was organized. I enjoyed it so much, in fact, that I will be going to volunteer abroad, again, with ISV in South Africa this June.