Tell us a little about yourself and your trip.
Krissie: I am Krissie, 21, from Montana. I travelled to Ecuador and the Galapagos in the summer of 2011.
Why did you decide to volunteer with ISV in Ecuador?
Krissie: ISV came to Montana State University, where I attend college, and had these crazy, dramatic, exciting people come around to all the classrooms and that was what first sparked my interest. As soon as I went to their informational meeting, I was hooked. I didn't pick a place I preferred to go, I let them chose for me and it just so happens Ecuador stole my heart.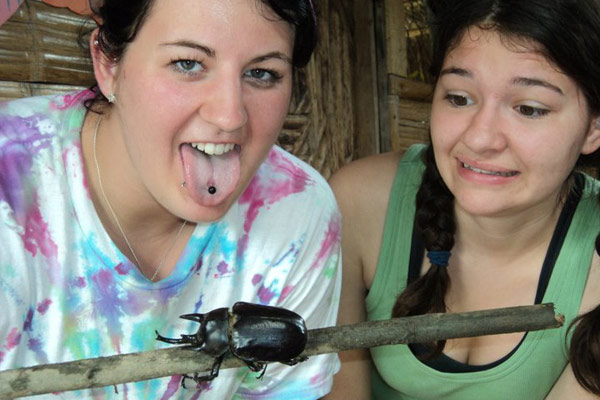 Describe your day to day activities as a volunteer.
Krissie: Machetti down forest area to plant new gardens for cacao, collect cacao open it and collect the seeds, helps move and rearrange gardens in the Amazon, teach English to students and members of the Qichua community.
Throughout my summer in Ecuador, I got to swim with sea lions and sea turtles, try new foods (guinea pig), and I fell in love with this dog, which we named Pequeno (small in Spanish). He slept in my suitcase every night. He rarely left my side he went to work with me every day he went on hikes with me. I bought him food and toys and I tried to get him back to the States, unfortunately though I could not.
How has this experience helped you grow personally and professionally?
Krissie: This trip changed my life. I fell in love with South America. It helped me chose what career path I want to pursue and it really helped me find myself as a person.