Why did you decide to volunteer with ISV in the Dominican Republic?
Cassie: I decided to volunteer in the Dominican Republic after hearing about it in one of my classes. The recruiter was so enthusiastic and postive about volunteering and it made me want to go. I chose the Dominican because it had the best program for working with children and that is always what I have wanted to do. I also love volunteering so it was a perfect fit for me!
Describe your day to day activities as a volunteer.
Cassie: For the volunteer portion of my trip, we split up into two groups. One group would volunteer at the local summer camp and the other group would volunteer in the community digging latrines. When working with the kids in the summer camp, we would implement lesson plans that we prepared in the days before. Some lessons were centered around games and others were more formal school-type work. It was great to see how the children interacted in the different settings! My group would take turns explaining the different lessons so we could all have equal opportunities to talk with the children.
On the days we volunteered in the community, we built latrines. It started by digging a very deep hole. Then we mixed and poured concrete to form the top and seat and lastly we built the wooden structure to enclose the latrine. While we were working on the latrines, we had the opportunity to interact and talk with the locals and hear what their lives have been like. After a days hard work, we all would stop by the mango tree to get some fresh mangos for the night! It was great to see the entire group in one place with all the people we were helping and getting to know! Being involved in the summer camp and community were, by far, the most amazing, rewarding, and interesting parts of the trip!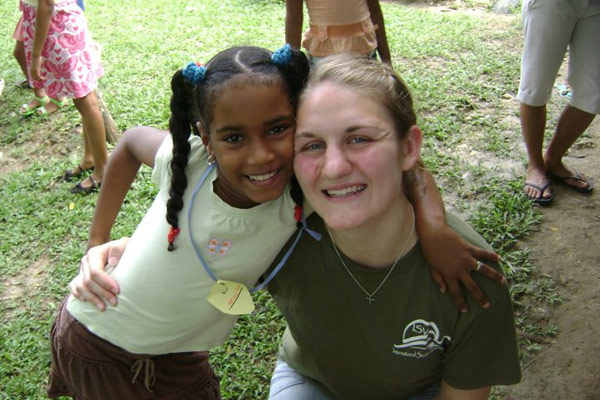 What made this volunteer experience unique and special?
Cassie: I think what made this volunteer abroad trip unique and special was that we really were immersed in the culture and lives of the people we were helping. To see how happy and thankful they were for our work really made everything worth while and really put our own lives into perspective.
How has this experience helped you grow personally and professionally?
Cassie: This experience has impacted my future in the best ways possible. It made me realize how many things I take for granted, like running water and the health and safety of where I live. Working with the children solidified my wanting to become a teacher and it has opened me up to the idea of teaching children another language as well. When my friends ask me how my trip was, it is very hard to explain that it truly did change my life. I am now considering moving to another country for a year to teach children english and other life skills as well as finding more opportunities to volunteer either in my own country or another country. In the end, going to the Dominican Republic to volunteer was by far the best experience of my life and would go again in a heart beat.