What position do you hold at ISV? What has been your career path so far?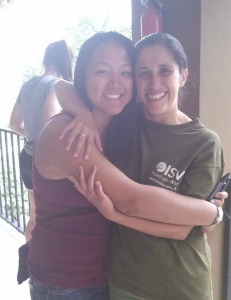 Andrea: I´m project leader for ISV since last year. Also I´m cofounder of Casa Al Revez, a freelance art production company, ISV host organization that works with environmental education through the arts. I´m an actress, writer and theater director.
With ISV we have been developing the Eco Camps, for several dates during the year. we work with kids from the community, providing them with free activities that involve environmental education and arts, providing a safe environment for them, free of sexism, racism, or discrimination in any class.
Also, they have the opportunity to improve their English and learn social skills that will help them in their future lives, with a greater consciousness of the environment and of people, forming a generation of more caring, creative, environmentally aware people.
Did you volunteer abroad? If so, where and what inspired you to go?
Andrea: When I used to live in Spain, I volunteered with the Red Cross on a project for keeping kids in the hospital company. Also I volunteered in Madrid Algarabía Puerta Abierta, an organization for teaching Spanish to immigrant women from Morocco and Bangladesh.
I always want to help people and have new experiences to challenge myself and step outside my comfort zone to a place where I can forget about myself and just give what I can to other people. Knowing other people is a way to know yourself. And I believe we come to this life to be of service to others and care about the planet.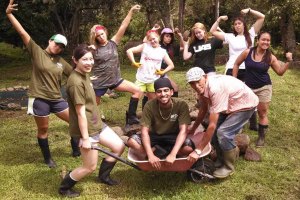 What inspires you most on a daily basis?
Andrea: I´m inspired by people, by the feeling that things in the world can be better, that everybody is equal and no one should be living under injustice of any kind. I believe education is the key for this change, and we need to simplify messages and learning so it's clearer and easier for people to understand things.
I love to work with people because of how much you can learn from them. It has opened my eyes to the reality of things and put me in the positions of doing something positive about things I think are not right.
What should volunteers know about Costa Rica when considering it as their next volunteer destination?
Andrea: Costa Rica has two seasons, rainy and dry. Rainy season (May to November) is sunny in the mornings and rainy in the evenings. Just be prepared with proper clothes and shoes. My country is very family-oriented, so you can feel at home with the people you´re going to meet. Everybody is very friendly and willing to get to know foreign people.
And, I think, it is one of the most beautiful countries in the world - the nature, the animals, the landscapes, everything. We are one of the only countries in the world without an army. Peace is a way of living. And the food is amazing!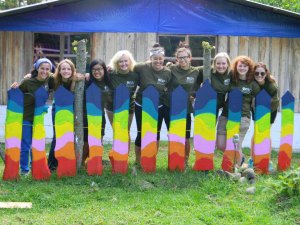 What makes the ISV volunteer programs in Costa Rica so unique and special?
Andrea: ISV Volunteers' programs in Costa Rica are important because of all the different communities that are going to be helped. Costa Rica is very little and diverse, so you get to know many different people, see many different beautiful landscapes, beaches, a lot of animals, jungle.
We are known to be one of the happiest countries on the planet. People are very grateful and understanding of what volunteers' work means and appreciate it very much. For us, Casa Al Revez, in particular, something precious that we have seen is the bond volunteers make with the kids, of pure, free, happy love.