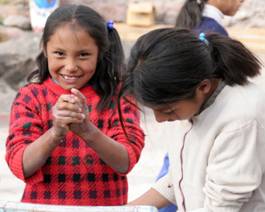 Why did you decide to volunteer with United Planet in Peru?
Andrea: I had to study, volunteer, or work abroad as part of my International Studies degree plan. I've traveled independently a lot and had already gone on a university-led study abroad (to Poland), so I knew I wanted to do something on my own. Most of my friends attended school in either Argentina or Spain for their degree requirements, but I wanted to do something different/more adventurous and really did not need additional credit hours.
I chose Peru because I was interested in its ancient cultures, history, and indigenous influences. I chose United Planet because I was working on a very specific timeline (ten weeks which had to fit my summer schedule just right) and budget. On the spectrum of volunteer opportunities, they seemed to offer one of the more comprehensive packages (travel insurance, lodging, etc) for one of the cheaper prices.
Describe your day to day activities as a volunteer.
Andrea: For the first five weeks, I lived with a host family in Cusco. In the mornings, I largely entertained myself by walking around the city, visiting museums, reading in the town square, and seeing friends. In the afternoons, I rode a combi bus about 35 minutes to an abused women's shelter. There, I helped care for about 15 children. I taught the teenage mothers some English and just played games with them. At night, I rode the bus back and sometimes went straight home and sometimes went out in the city with friends.
United Planet arranged a few trips for the volunteers, including Macchu Picchu, Peruvian cooking classes, rafting, and other such events. For the next five weeks, I worked in a smaller town about an outside of Cusco and helped run an after-school program for about 50 children, ages 3 to 17. I stayed in the town Monday through Friday and returned to Cusco on the weekends, where I stayed in a hostel. At the after school program, we taught English, played games, organized "festivals" and generally built relationships with the kids.
What made this volunteer experience unique and special?
Andrea: I enjoyed getting to know the local culture and I made several very good Peruvian friends. The volunteer group was diverse (several Americans of all ages, Germans, and Swedes), and the city itself was beautiful. I felt very welcome and safety was rarely an issue. The culture alone was enough to make me want to go back to Cusco, but I also enjoyed volunteering and sharing my experiences with the people I met.
I'm not sure though that United Planet really made a huge difference, as I could have arranged the trips and volunteer experiences on my own and would have felt a bit more in control of my time there. I was not terribly impressed with their on-site staff either; the main point-of-contact actually ran a for-profit school there and seemed to care more about his "real" students than the United Planet volunteers.
How has this experience helped you grow personally and professionally?
Andrea: The trip gave me more confidence in my Spanish-speaking ability and independent travel. It was rewarding to get to know people from such a different culture and to feel so welcome in a new place. The trip has not directly impacted my professional future (yet), though I anticipate it will make me more competitive in the job market when I decide on the career path I hope to take.