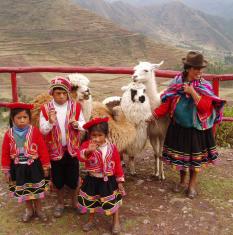 Why did you decide to volunteer with United Planet in Peru?
Chip: I decided to volunteer with United Planet in Peru because my university (Wofford College) has a January semester. I wanted to go abroad to a county in Central or South America that had a medical volunteering possibility. Cusco, Peru fit that criteria and so I researched the area and program and decided it was a fit.
Describe your day to day activities as a volunteer.
Chip: On a normal day, I would wake up and eat breakfast with my host father. I would then walk to Spanish classes at the school. After class, I would hang out at the school and talk to my new, international friends, or I would go and explore the city. Then I would return home for lunch with my family before heading out to volunteer. After volunteering I would come home and relax with my family and eat dinner. Occasionally I would go out with my friends downtown afterward, but not too often.
What made this volunteer experience unique and special?
Chip: My host family and new friends definitely made this volunteer abroad experience unique and special. Especially because I got to travel with one of my friends to Machu Picchu. That was incredible!
How has this experience helped you grow personally and professionally?
Chip: This experience confirmed my desire to work in healthcare, hopefully with an emphasis on a Spanish speaking area or with Doctors Without Borders. I also benefited by learning from another culture and further understanding myself through this process and how I have grown as an individual.