Why did you decide to volunteer with Love Volunteers in Vietnam?
Chess: I felt that the programme offered me the best value for money and the projects were run by local charities, which was perfect for me as I wanted the most 'grassroots' experience I could get. Also, reading through other people's experiences with Love Volunteers, the company appeared organized and supportive, the two primary characteristics I was looking for on my first trip abroad.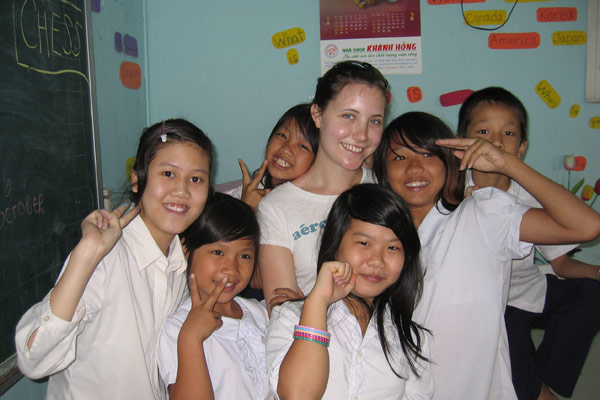 Describe your day to day activities as a volunteer.
Chess: I would wake up at about 7am and get ready for morning class. We would have breakfast, shower, get our things together and leave at around 8am (dependent on the class you had). Travelling time usually took about 45 minutes on average but it was really interesting to be on the local bus and chat to the Vietnamese volunteers so this time always went quickly and was never wasted (getting a local bus in Vietnam is definitely a unique cultural experience!). We would then have class from around 9-11:30am (again, dependent on the class), which we planned and ran ourselves with the help of a local volunteer to translate if necessary.
Afterwards would make the journey back to the Peace House (volunteer dorms where we were staying) for lunch and a nap/preparation for the afternoon/hanging out/go to the shops etc. You were either assigned to afternoon class 3:30-5pm or evening class 5-6:30pm. Once again this involved some travelling to and from the projects but as I said before it's always a new experience every time! In the evening we would either get some local Vietnamese food (Pho!), go to the Backpackers District in the centre of Ho Chi Minh City for some drinks, plan our lessons or just generally hang out!
What made this volunteer experience unique and special?
Chess: Definitely the people. The people that worked for the charity I volunteered with were always extremely helpful, flexible and approachable. The students I taught were willing to learn, enthusiastic and had the most positive outlook on life, despite their circumstances. The other international volunteers were interesting and fun and caring. The local volunteers were always willing to show us new and exciting places, listen to our stories and help us with anything we needed.
How has this experience helped you grow personally and professionally?
Chess: I am now going to complete my TEFL course with the aim of going to teach English abroad in the next three years – that was definitely never in my life plan before! Personally, I have become much more laid back and just go with things that I can't control: everything works itself out in the end.