Why did you pick this program?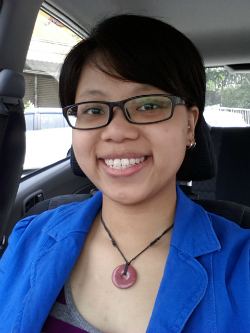 There are two main reasons. First, in my working life, I take care of adult patients. I would like to go out of my comfort zone, hence the reason I chose Working with Children in Ho Chi Minh City. Secondly, Vietnam is well known as the second largest coffee exporter. I spent my free time mostly in cafes to try out their coffees and it's amazing!
What is the most important thing you learned abroad?
I learned so much about humanity during my volunteering days. I was posted to Ky Quang Pagoda Orphanage from July 6th till 31st. I worked with disabled children, and through them I learned that happiness is simple. They smiled when I brought them for a walk, they laughed when I played with them. While the children in the world out there plays with gadgets i.e Ipad, tablets etc, they require nothing but our presence to draw a smile on their face each day.
What do you tell your friends who are thinking about going abroad?
After seeing my updates in Vietnam, several of my friends asked me about my experience and more programs in detail. I provided necessary information and encouraged them to go for it!
What was the hardest part about going abroad?
The hardest part is always about language barrier during my outings. Nevertheless, soon after I started volunteering I met many wonderful local staffs who became my friends. From them I learned a few simple Vietnamese words.
What's your favorite story to tell about your time abroad?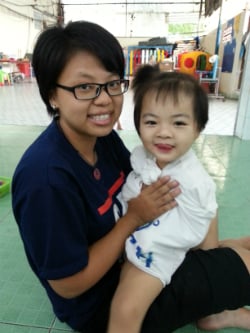 During my volunteering time in Ky Quang Pagoda Orphanage, there were many children that I took care of. But there was one particular girl that took my heart away.
Her name is Coca and she's 2 years old. She suffers from a type of mental disorder, and she sucks her thumbs and fingers almost continuously that they had to tie her shirts in order to prevent her from doing so. It made her frustrated from time to time. When I first came; I saw her in her walking chair, looking depressed. I spent much time to approach her and earn her trust, and finally drew a smile on her face.
There was a couple of days she fell sick and had to rest in her room that I wasn't able to take care of her, but still managed to pay her a visit. It had been my honor to walk and feed her during the 4 weeks of volunteering. To date, I still miss her and stay in touch on her updates through the local volunteers. I hope to see her again one day.
What made this experience unique and special?
Volunteering isn't just mentally challenging, it is physically challenging as well. Carrying, assisting the staffs in lifting the children and walked or pushed them around in their trolleys made me sweat a lot each day, yet at the end of each night I would be smiling looking back at each day's value that I have earned.
My life motto has always been "One Smile A Day, Keeps All Negativity Away". I believe I have managed to draw some wonderful smiles during my volunteering days not just on the children's face, but the local staffs as well as fellow volunteers. It was a truly amazing experience.
Coming here to volunteer also gave me a chance to get to know fellow volunteers who came from around the world such as France, US, Canada, and many more. I'm glad we shared common interest in humanity and trying to maintain it by bringing positive vibes representing our own countries. I believe that volunteering needs no verbal language to understand each other, we need but kindness and compassion to join our hearts together to lend a helping hand to make the children's life better.
What is one piece of advice you'd give to someone going on your program?
Go for it, explore the world, lend a helping hand and embrace the amazing experience. You'll love it!
What made this trip meaningful to you, or how did this trip change your perceptions or future path?
A few years ago I lost my friend who passed away due to Kidney Failure. It was 26th July 2012. She was a kind friend and I'd like to honor her by bringing her positiveness in this volunteer trip.
I also spent my humble 26th birthday doing what I love and the memories will stay in my heart forever. The month of July have always been meaningful to me. I hope to be able to continue giving out to the needful ones even in the future while I'm still young and capable.
Where did I go for coffee hunting?
If you're a coffee lover, there are a few cafes I would love to recommend. All of them are situated in District One.
- I.D Cafe which is situated in Thu Khoa Huan Street near Ben Thanh Night Market, cozy environment and suitable for group outing.
- Urban Station Coffee; there are a lot of them but my frequent visit was to the one in Ham Nghi Street. I had my best Latte here.
- L'usine Cafe in Le Loi Street. Nice environment but packed on weekends.
- M2C Cafe in Ly Tu Trong Street, they offer a wide range of meals and drinks especially their trademark coffee.
- SHE Cafe in Pasteur Street. Nice environment, basic coffee.