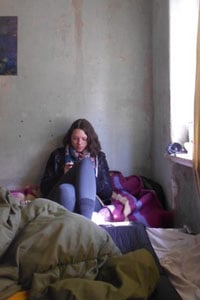 Why did you decide to volunteer with VFP in Germany?
Laura: I was introduced to VFP by a dear friend who's done projects with them in France, Romania and Turkey, so it was her experience that initially intrigued me. We've often agreed that this organization is almost too good to be true; browsing through the list of volunteer projects is like flipping through a Christmas catalogue. There's so much to choose from and, as far as I'm concerned, their projects are the most affordable and enriching opportunities to explore new cultures.
What made this experience unique and special?
Laura: Our living conditions were remarkably unique. We stayed in an abandoned house with no heat or electricity – just a wood stove in the kitchen and one of the bedrooms – so we were essentially camping indoors. I loved it. Backpacking provides a whole different kind of adventure, but there's something uniquely comforting about having a temporary place to call home and other volunteers to call family when you're in a totally foreign environment.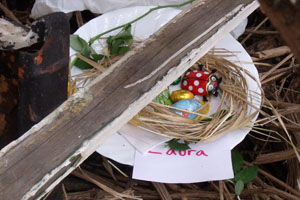 How has this experience impacted your future?
Laura: Most significantly, it gave me the motivation, courage and resources to apply for a Youth Mobility Visa and move to Berlin. My current roommate was a fellow volunteer in Halle, and I now have a number of other connections around Europe which has opened up a world of future work, travel and volunteer possibilities. I'm also really good friends with an American who signed up for the same project through VFP, and we've even started collaborating musically. Those two weeks in Halle set me in a really exciting new direction.
Morning: Our wakeup times varied because we didn't have a fixed work schedule, but on average we'd crawl out of our sleeping bags, throw on our work clothes and pack into our little kitchen by 9am. Breakfast usually consisted of bread, cheese, jams, fruit, cereal and tea – we established cooking and cleaning teams for each meal, and would usually discuss who was responsible for what at the start of each day. We'd then meet with our project coordinator, Hendryk, receive his instructions and get to work!
Depending on the task you were given, you could be fixing plywood to a concrete wall, cementing the side of a house, painting, etc. It all depended on what needed to be done that day, and what you were open to trying.
Afternoon: At 1pm we'd break for an hour-long lunch, which was prepared for us inside the burgertreff (a social meeting place for local children in need of food, help with their school work, etc.). Following that we'd generally continue working until 4pm, usually resuming whatever tasks we'd begun in the morning but we were sometimes given the option to rotate.
Between finishing work and preparing/eating dinner was leisure time – there was lots of local street art to admire, empty buildings to explore and a chocolate factory to tour through.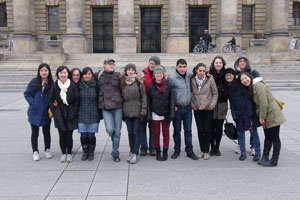 Evening: Every evening in Halle was different. Occasionally we'd go on group outings to the local cinema, bowling alley or whichever bar had live music, but quite often we were free to just hang out and do our own thing, or go out in smaller groups.
We were really fortunate to have bicycles, thanks to the students who lived in the house beside us – they exhibited out-of-this-world generosity, hosting barbecues for us, showing us cool spots around town, and basically sharing whatever they had.
Highlights: The Easter long weekend was a lot of fun. We got to hunt through a field/junkyard for eggs and chocolate and took a group day trip to Leipzig, where a friend of one of our group leader's gave us a tour of the city.