Why did you decide to volunteer with World Campus International in Japan?
Robert: A number of reasons attracted my participation but the following were among the main ones:
Getting international exposure
Learn how the same things are done by individuals from different cultural backgrounds.
Learning about other cultures and languages especially Japanese.
Making both personal and organization friends.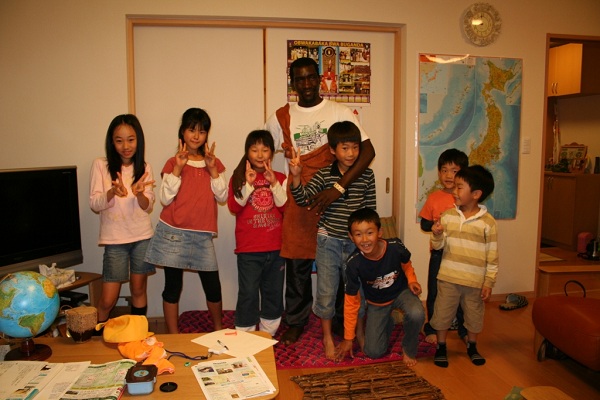 Describe your day to day activities as a volunteer.
Robert: I mostly volunteered at host family level the following are among the activities I did engage in:
Teaching English language to my host family brothers and sisters during my stay in Omura (Nagasaki Prefecture) and Tama city (Tokyo area).
On the other hand for a number of occasions, I engaged in cooking special cultural dishes to a number of host families during my stay in Toyota city, to junior school pupils while staying in Mito and to University students during my stay in Osaka.
I had forgotten to mention this, almost during my stay in Japan, I used to make special cultural presentations to my host families and invited neighbors every evening and this was so interesting and much fun.
Lastly, I remember one of the last days in Omura, I volunteered to guide a new participant from Norway. My task was to brief him about what had been going on, basic cultural concepts, and to give him company so to feel welcome and never to get bored.
What made this volunteer abroad experience unique and special?
Robert: The program design that lets one access different work environments was and still so unique to me. It is surely so special for one to experience how things go on in say; manufacturing industries, ninja houses, education institutions, city administration, peace and science museums, etc.
How has this experience helped you grow personally and professionally?
Robert: Surely, it enabled me to start accepting and respecting how things are done by others from different cultural backgrounds. Further, I have learnt how to intelligently ignore some cultural practices which are not of interest to me but without causing any cultural behavioral misunderstanding. This has helped me to quickly adapt to strange cultural environments and establish stronger working and friendship bonds with people of different cultures the world over.