Why did you decide to study abroad with SFS in TCI?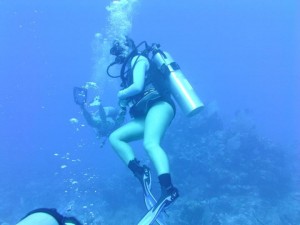 Amanda: I decided to study abroad with SFS in TCI because I wanted to experience a new culture while also getting an in-depth marine biology education. I have wanted to study marine biology for years, so TCI was the perfect place for me. This program encouraged me to get scuba certified and challenged me to test myself in this new environment. The pictures I saw were beautiful, and the reviews I heard were all more than positive! I was excited to learn a lot in a laid back community. I liked that fact that we wouldn't just do science but would also learn about the culture and history of the area and get to interact with individuals from the community.
What made your study abroad experience unique and special?
Amanda: There were many things that made this study abroad experience unique and special. The first and most important aspect was the BEAUTIFUL setting we were blessed with. The beautiful blue water and healthy coral reefs made even challenging fish ID sessions fun and enjoyable. It was so amazing to be able to watch the Caribbean sunset every night before dinner. I loved that the center was so open; we were rarely inside except for class and sleeping.
Another special aspect of my experience was the always energetic and friendly staff at the center. Our professors, SAM, interns, and center director were all great people who made us feel right at home. They were always flexible no matter what situations arose. I made some great friends among the staff and especially among my fellow students. I loved the fact that we were from all over the country. I now have friends all up and down the east and west coasts and everywhere in between. We all bonded very quickly and I expect to stay close with most of them for years to come.
How has this experience impacted your future?
Amanda: This experience has only further strengthened my desire to do field research in marine science. We learned research techniques that will be helpful in my future classes and future jobs. Through this experience I became a better diver which I plan to utilize in my career as well. I am thinking about returning as an intern after I graduate, and I will be earning my divemaster certification in order to do so. This experience has given me an edge over other students in my field because I have real experience that others have not been fortunate enough to have.