SFS Study Abroad: Marine Ecosystems in the Turks & Caicos Islands
Term
Fall, Short Term, Spring, Summer
View Other Details

Program Details

Degree Level

Associates

Bachelors

Pricing

Price Details

Program fees include tuition, housing, daily meals, field excursions, entrance fees, cultural activities, advising services, airport transfers, 24/7 mental health and well-being support, official transcript processing and more – check out our website. Need-based scholarships available.

What's Included

Accommodation

Activities

Airport Transfers

Classes

Meals

Transportation

Wifi

What's Included (Extra)

No Application Fee!

What's Not Included

Airfare

Travel Insurance

Visa
17 travelers are looking at this program
SFS offers some of the best (and most adventurous!) hands-on study abroad programs. Our programs in the Turks & Caicos Islands (TCI) explore pressing environmental issues such as marine ecosystem health, climate change impacts, and biodiversity conservation. Students learn through outdoor lectures, hands-on field exercises, and activities with community members and area NGOs.
The SFS TCI campus, once an oceanside hotel, is overlooks the crystalline waters of the Atlantic Ocean. Spectacular sunsets, open-air facilities, warm sunshine, and a refreshing ocean breeze define this marine field station. A five-minute walk brings you to the small, historic town of Cockburn Harbour, where students and faculty frequently engage in community activities.
Click on Visit Site above to learn more about studying abroad in the Turks & Caicos Islands with SFS!
Program Highlights
Earn academic credit: 16 credits for semester programs and 4-8 credits for summer programs. Conduct a 4-credit research project during the semester program.
These islands are home to vibrant coral reefs, dramatic sea walls, a deep ocean trench, mangrove forests, and extensive seagrass beds and sandy shoals, which together sustain a stunning diversity of sea life.
Go snorkeling and/or diving in the clear waters around South Caicos. Spotted eagle rays, sharks, sea turtles, humpback whales, queen conch, and dozens of fish species thrive here.
Take an excursion to the islands of Middle Caicos, North Caicos, and Providenciales to explore the variety of ecosystems in the TCI, including caves and protected wetlands. (Semesters only)
SFS TCI semester research topics may include climate change and ocean acidification, tourism impacts, commercial fisheries, coral reefs, mangroves, and seagrass ecosystems, and marine protected areas.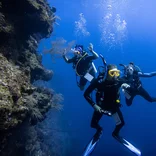 Spend a semester on the island of South Caicos, where spectacular marine ecosystems are still largely untouched by tourism and development. Don your wetsuit and get to know a host of marine life while conducting research on coral reefs, seagrass meadows, and mangroves. Evaluate fisheries resources and policies while collecting data that helps community members balance their rights and needs with the island's conservation goals.
4 classes | 16 credits | One life-changing study abroad experience.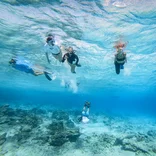 Explore the spectacular reefs and turquoise waters of South Caicos, snorkeling or diving with rays, turtles, brilliantly colored fish, and other marine life. In this summer fundamentals course, you'll learn about the environmental issues and policies affecting these ecosystems and island community, and gain marine research skills.
1 class | 4 credits | One life-changing study abroad experience.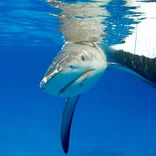 Spend four weeks studying sharks, turtles, and rays in the waters surrounding the island of South Caicos. In this specialized course, you'll learn about the ecology and conservation of these and other marine megafauna through in-water field lectures, snorkel or dive sessions, and video tracking exercises.
1 class | 4 credits | One life-changing study abroad experience.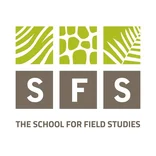 The School for Field Studies Scholarships
SFS works closely with your home school to help you fund your SFS program. Many applicants receive aid through their home institutions or other outside sources, so check with your financial aid office to see what aid may apply to an SFS program.