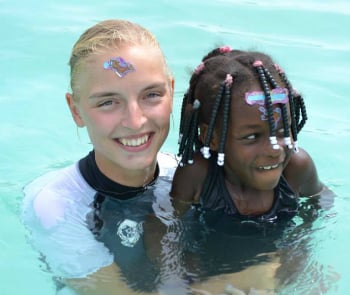 Why did you decide to go abroad with your provider?
Rie: I had been looking around online for field courses with something to do with marine science, since I wanted to not only do a bachelor's degree in biology, but also get skills both in the lab at my home institution, as well as experience with fieldwork and visit other types of environment.
Several things made me choose the program with SFS. Firstly, the great amount of time spent in the field was appealing to me – that's the first thing I wanted from my stay abroad. Secondly, I became curious when I saw that their "marine protected areas" course takes place in the Turks and Caicos Islands – a place I'd never heard of. How cool would it be to go to a place you'd never even heard of before?
Thirdly, I was convinced that it would be great when I started my sign up process and the staff was of so much help to me – it was a bit difficult with the application, as it is not designed for a Danish student.
Describe your most meaningful souvenir and why you love it?
Rie: South Caicos is not a touristy island, and so there are no souvenir shops around. I may or may not have bought some if there were, but either way, the very best souvenir I brought back was a small purple envelope with my name on it.
During the last days on the island, our student affairs manager, Molly, had put up envelopes for each of the staff and students, in which we could put little notes for each other – "warm and fuzzies", they called it. In there are notes from some sweet friends I met during my time on South, great memories of great times. I also have a bracelet my host mother in Panamá gave me when I visited on my way to TCI – I gave a matching one to a friend from the SFS program, so that is a great memory of both places.
If you could do-over one thing, what would it be?
Rie: With the cost of the program, plane tickets etc., I could not afford to also go out and buy an underwater camera – I really wish I had! If I could do something over, I'd definitely find a way to get one – even if I had to borrow it!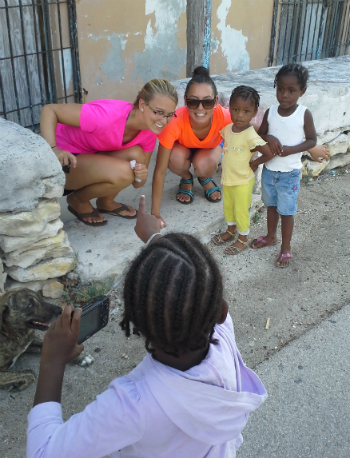 So much time was spent in or on the water, either diving, snorkeling, sailing or swimming, and there was so much cool marine life and so many funny situations that would have been great to photograph! Luckily, other students had underwater cameras, and I got to see their pictures – but still!
What made this experience unique and special?
Rie: I think one thing that makes this program very unique is that you live on such a small island – South is about 21 km2 in size, and so both the local community and the areas in which we did field work are very close by. Also, students and staff all live at the Center, eat meals together and help each other with cleaning and so on. You get to know people in a different way when you live so close.
Furthermore, the island is somewhat isolated – a food boat comes in every few weeks, and hardly anything is produced on the island itself. The only freshwater source is rainwater, which is collected and cleaned for cooking and drinking. Freshwater showers are rare, as water needs to be conserved.