Why did you decide to study abroad with ISA at University of Sevilla?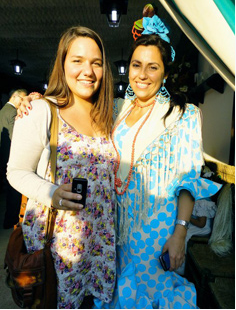 Blair: I decided to study with ISA in Sevilla for several different reasons. I initially looked at cost, and eliminated Barcelona and Madrid. I then thought of the weather...I knew that at could get fairly cold in the winter up north so I wanted to look a little more down south. I really wanted something with a more "traditional feel" and started to look towards Andalucia and cities like Granada, Sevilla and Malaga. From all that I read about Sevilla and it's "feria", Semana Santa, the bullfighting, city and people itself, it sounded perfect.
I chose ISA because they offered reasonable prices and (at the time) I knew little Spanish and felt comfortable going through a program that was there for you. ISA picks you up from the airport, plans several excursions, weekly activities, "intercambio" and Spanish exchange programs and several get-togethers. They were able to walk me through the city and assist me with the host family which I found really beneficial. My experience with a host family was so wonderful. I was able to try so many new and traditional foods, and grew very close with my host mom. She even took my roommate and I to the beach with her one weekend and treated us as family!
What made your study abroad experience unique and special?
Blair: The city itself made the experience unique. It's a large, vibrant city rich in history and culture. It's not overwhelming though; everything is walkable. The beautiful parks and famous Plaza de Espana allow you to feel like you are completely out of your element. The architecture was beautiful. Every time I describe the city, I say it's "the happiest place I've ever been to". The sun is constantly shining (it was 60 degrees in January), and the streets are always filled with family and friends outside and enjoying their lives.
The nightlife was incredible and provided me with the opportunity to meet so many Spaniards. This was crucial for me as I was really self-conscious of my Spanish when I first arrived. Within the first week I felt comfortable practicing my Spanish with locals, despite how broken it may of been. Everyone was so receptive to me and I was able to become a "regular" at several places, receiving help with my Spanish everyday. I learned so much about enjoying the little things in life, and slowing down the pace a bit. People seemed to work to live there, rather than living to work.
From an academic perspective, the program was amazing. ISA Sevilla provides students with the opportunity to receive classes in either English or Spanish which is really helpful for those that are uncomfortable with courses in Spanish. I was a bit weary, and ISA took the time to place me based on a language level before entering my classes. All of my classes transferred easily, and I enjoyed the difference in relationship with your professors. The classes were small and I was able to get to know them a little more personally. I felt comfortable approaching all of my professors for help, and thought it was awesome that at the end of the semester each professor went out with my classes to celebrate. As a political science major, the courses really offered a unique perspective because many of my classes were related to globalization and international politics.
How has this experience impacted your future?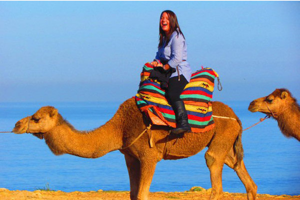 Blair: This program has impacted my future expediently. I am so much more comfortable with new surroundings, I've made friends to last a lifetime in both Spain and the US (I had the greatest host family and roommate!). I am able to communicate with those that speak Spanish on a much greater level which will most certainly benefit me in the job market. And I've now got a yearn to continue my travels and expand my horizons that much further. My love for Spanish culture lives on, so much that I have applied to return after I graduate this spring as a Language and Cultural Assistant through the Spanish Government! My expectations for my study abroad experience were set so high that many were worried it was unattainable, but I can sincerely say that they were met and then surpassed! I could never say enough good words about this experience!