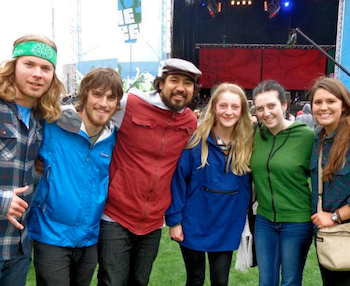 Why did you decide to study abroad with GlobaLinks in New Zealand?
Vanessa: When I decided I wanted to study abroad in New Zealand, I was looking for a good value. Australearn offered multiple programs going to all the different universities in New Zealand. Australearn also took care of everything for me, so I only had to apply to them and they handled the rest with my university abroad. This simplified things on so many different levels.
They were also extremely nice and willing to answer any questions that I had. Their orientation program also was a big selling point, because it allowed me to become connected to people not only going to the university I was attending, but also students going to other universities throughout New Zealand. This network helps make traveling easier because you can usually always find a friend to stay with to cut costs.
Australearn really took care of everything and made the transition a lot easier than it might have been if I had decided to make my own arrangements.
What do you think made this experience unique and special?
Vanessa: New Zealand is truly one of the most beautiful places in the world. The cities are charming and the natural beauty is exquisite. They also have some of the most intense adrenaline sports as well. Bungy jumping, hang-gliding, zorbing: you name it, they do it. The people are also some of the friendliest you will ever meet. I once asked someone where something was, and instead of offering directions, they just drove me there themselves. Everything about New Zealand is unique and special.
How did this experience impact your academic development?
Vanessa: This experience has made me a much more capable individual. Studying abroad forces you to rely on yourself and to test your personal boundaries. Whatever you put into it, you get back tenfold. I learned so much about myself and how to be self-sufficient.
Academically it has challenged me to learn different skills and live up to the expectations of the faculty. It is much less overall work, but again most of it is self-motivated and worth higher percentages of a final grade.
The experience has also made me more marketable for jobs. I want to work in the field of international business and marketing, which means that I need to have life experiences that back up my academic qualifications. Merely being a tourist is so different than actually living somewhere for a while. I gained an entire new culture through my experience abroad. It was the best decision I ever made.