Why did you decide to volunteer with A Broader View in Belize?
Lauren: I chose to volunteer abroad with A Broader View because of the wide range of locations to pick from, the great reviews it got and the cost. It was much less expensive than with other volunteer abroad organizations. The people at ABV are so helpful, and if I had any questions my emails were responded to the same day. When my friend and I arrived at the orphanage, ABV sent us an email making sure we arrived and to let us know if we needed anything. Also, after the trip, there was follow-up communication, letting then knowing how the trip went, etc. They were an awesome organization to work with, and am one day planning on going with them again. I HIGHLY recommend traveling with ABV.
What made this experience unique and special?
Lauren: This experience was unique for me because it was the first time I had traveled without my family, and to a developing country! My parents were anxious at first, understandably, an 18 year old who's 5 feet tall and straight out of first year university from a small town, that would be concerning! But traveling with my friend Leah (of the same description) made it easier, and being able to email home every day of we wanted made it much easier for our parents, knowing they would get updates throughout the trip.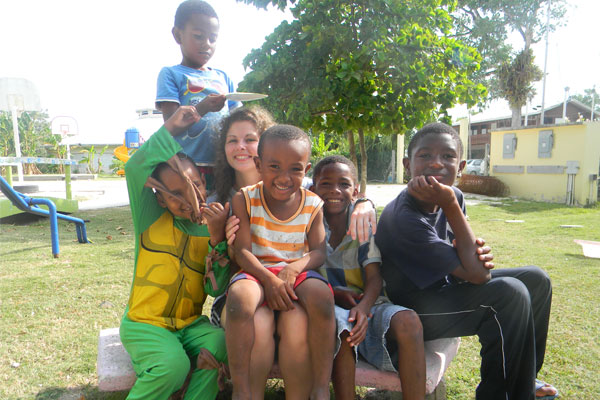 How has this experience impacted your future?
Lauren: This experience has greatly impacted my life. I can't look at chicken (from killing one), beans or rice the same way anymore... But really, I honestly cannot go a single day without a memory from Belize making an appearance. This trip taught me the value of relationships, and how even just two weeks with a person, at first a complete stranger, but at the end it seems like you ve known each other your entire life, can give such insight into the hardships these people have known, but also the energy they put into their days and work. Both the adults and kids we met on this trip included.
Coming from a country where we can just drive to the store, in our nice new shoes, and money that we earn from our jobs (which are relatively easy to get, compared to places like Belize) and buy a chicken that is ready to throw in the oven, your perspective is in for an overhaul when you are told to catch a chicken (x30), kill it, pluck it, pull out its innards, clean it, and take it back to the kitchen in a wheelbarrel, in 36°C, while dripping sweat from every inch of you. And the kids see you with these chickens and come running! They are so excited!! And then you personally avoid eating chicken for 3 weeks after you get back home. But the whole process becomes this eye opener for how the rest of the world lives.
Now back at home, in my daily life, when I want to complain about my iPod not working, or my sandwich has some dirt on it, or something of that sort, I remember this moment in Belize, and realize that this is no where close to something to complain about.
This trip was so amazing, and if you are thinking about going, please do. ABV is a great organization to travel with, and the orphanage is such blessing to the community it is in, and to be a part of that is so special. The impact it will have on your life will be immense. I am so thankful I was able to have this kind of opportunity.
Morning: On a typical morning at the orphanage in Ladyville, the volunteers woke up around 6 30 (not on purpose, mostly because the sun was up and it was hot!!) and went down to the kitchen to help serving breakfast to the kids before they left for school. After all the kids had meals, the volunteers would eat with the kids. Breakfast was usually refried beans and bread, although on weekends there was cereal. Once the kids left for school, the volunteers go back to their dorms to get ready (shorts and a tank top and flip flops, too hot for anything else) and then work for the groundskeeper raking, gardening, cleaning pigs, learning how to kill chickens (which is quite the experience! Definitely an eye opener) cleaning the kitchen, and other odd jobs.
Afternoon: A typical afternoon at the orphanage started when the kids got home from school (around 3pm). Homework time was for one hour after they got home, so during that part, the volunteers just sit with the kids and help with school work or just make sure they are studying. After was free time, where the kids would change out of their uniforms and then start tearing around the yard wanting to play games! 'Hands up- Stands-up" was a hit, as well as showing the kids pictures on our cameras we had taken, or running down the street to the store to get a freezee. Eating mangoes, crafts, basketball, soccer (super popular) were all activities that we did in the afternoon.
Evening: Around 5:30pm, the volunteers would go into the kitchen to start serving dinner. Same system as breakfast. Dinner was usually lunch leftovers (chicken with sauce), rice, beans, and bread. You have to learn to like beans and rice very quickly cause they are served at every meal!! After dinner, the kids would either watch a movie, have a dance party and teach the volunteers how to dance, or we would continue some activities that we were doing before dinner. Bedtime for the kids was around 8:30pm. The volunteers had some free time (throughout the day too) in the evening after the kids were asleep, and if we had enough energy we would walk down to the store to get some food, soap, laundry soap, etc. Even when the sun went down, it was still very hot and humid out, so bring a fan for your dorm.
Highlights: The highlight of the volunteering aspect of this trip was making such great connections with kids. My friend and I were both close to tears when we had to leave. The kids are so polite and respectful, and call you "miss" or "mr", and will talk your ears off if you let them. They are wonderful, and even now (6 months later) I still look at the pictures and can remember names, and they funny things they said and all the new lessons I learned from them. Not one day goes by without at least a thought about the orphanage and the kids.
The caregivers and staff at the orphanage are also absolutely wonderful people, and work incredibly hard to give these kids a supportive and loving environment. There isn't one minute that a volunteer can't be working, organizing games for kids, or helping the caregivers. Also, the caregivers were really interesting to talk to, about their lives and how much this job is to them. The relationships that you make and the insight into what truly matters in order to be happy is only able to be understood with an experience like this.
Aside from the volunteering highlights, the overall trip highlight was meeting other volunteers and traveling Belize with them on our days off. My friend who came with me and two other volunteers from the US took a bus to Belize city and then a boat to San Pedro. If you are planning on coming to Belize, you have to go here!! It is beautiful, and the most relaxing place I have ever visited. Pedro's Inn is the place to stay, and almost any of the beach you can find is beautiful. The water is the perfect temperature, and its all just gorgeous. Just make sure you bring lots of sunscreen! We also visited Mayan ruins (Altun Ha) which was really neat, if you ask staff at the orphanage they can help you arrange it because its kind of in the middle of the jungle. So amazing.
Just some tips: If you're planning on coming to the orphanage to volunteer (which you should cause its awesome) make sure to bring enough clothes for at least a week. You can do laundry on weekends. Tank tops and shorts are good for all the yard work and keeping up with the kids, but if you re planning on going out into the town or into Belize City bring a T-shirt or a shirt with sleeves. I wore flip flops for almost the entire time, because your feet get so dirty anyways and its too hot for socks I thought. If you end up doing some kind of building project, then some runners that can breathe would be smart. Otherwise, bring 2 pairs of flip flops.
Also when you get to Ladyville, stop by Low's (the store on the main street) and pick up some soap and laundry detergent. Bring granola or protein bars, and a refillable water bottle. Bring two towels, because you actually shower twice a day because of how sweaty you ll get, and it takes FOREVER for a wet towel to dry because of the humidity. A clothes line is also super helpful. Pictures from home make a good activity for the kids, they absolutely love looking at pictures, and want to hear about where you live. My friend and I (we re from Canada) had all the kids saying "eh?" at the end of their sentences, which they thought was so fun!