Why did you decide to volunteer with A Broader View in Belize?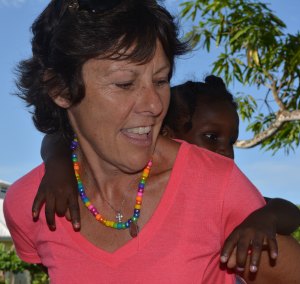 Gloria: Last summer, my 20 year old daughter, Jocelyn, expressed an interest in doing a mission trip. I decided that I would love to share this experience with her, so I started researching mission trips online.
During my search, I found A Broader View. I was immediately drawn to their website and their broad spectrum of locations and types of mission trips.
I began communicating with Sarah Ehlers at ABV, who responded to all of my questions and concerns. Since both Jocelyn and I love to work with children, we decided to visit the children's home in Belize. We went for one week in June of 2013.
What was the best moment of your trip?
Gloria: Although there was not one best moment of the trip, the special moments were the ones we spent with the children, either sitting down for a meal, playing games with them, or reading to them before bedtime.
It was amazing that we formed such a strong bond with the children after only one week. It was difficult to say good-bye, but we promised them we would be back.
If you change one thing about your experience, what would it be?
Gloria: If I could change one thing about the trip, it would be to increase the length of time we stayed. Our trip was limited to one week because we organized it at the last-minute and Jocelyn had to return home to begin working at her summer job.
How has this experience impacted your future?
Gloria: The trip has impacted me in so many ways. Although people think they are aware of the plight of others from reading about it or seeing it in social media, there is nothing like experiencing it firsthand to gain a true perspective.
Who would have thought we could live without cell phones, computers, warm showers and air conditioning? But, once there, none of that mattered.
We were up early, doing chores around the home, and then spending the rest of the day with the children. At night, we fell asleep exhausted, yet happy and fulfilled.
Jocelyn returned to the children's home in December of 2013 by herself. Her goal was to bring the true spirit of Christmas to the 42 children there.
Through fundraising, she raised over $4,000. She bought each of the children an individual Christmas present, in addition to buying decorations for the home and a swimming pool.
We both look forward to returning to Belize this summer.