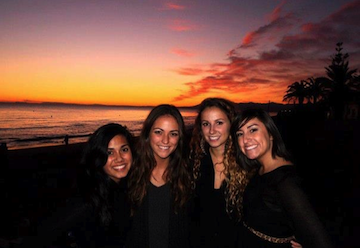 What was life like in Spain?
Caity: The lifestyle in Malaga is the perfect combination of learning Spanish, meeting people from all over the world, and going to the beach. I would wake up early every morning only to see literally the worlds best sunrises. Breakfast was small and included bread with jam and coffee. However it was all about the lunches. After a long day of class rambling on in Spanish for 5 hours, my house mom served anything from seafood paella to lentil soups with carrots. Afterward a siesta was a must! When I woke up I usually went for a walk around the beach, discovered new clothing stores or met with a local to practice my Spanish. The options were unlimited and even walking around the small city was good enough for me because we would stop for churros con chocolate or go to a local cafe for tea.
Describe the best part of your study abroad experience in Spain!
Caity: The highlight of my trip was when my parents visited for Thanksgiving. We spent two days searching for a turkey and finally found one and made a huge feast for me and my new ISA friends. Thanksgiving on the beach with the most incredible sunset was the highlight of not just my trip but everyone who was there.
Why did you choose ISA for study abroad and why should other students?
Caity: I chose ISA because its famous around UCLA. The young staff is so helpful and are everyone's best friends before the trip is over. I have always loved traveling and this reinforced that staying in one place and getting to know a culture really well is the best way to know yourself and find what you're passionate about. I am now working with ISA at UCLA as a campus representative and cannot thank them enough for my experience.