What originally inspired you to teach in Thailand with GeoVisions?
Alex: I wasn't satisfied in my job back in the UK and I was searching for an escape route. I had travelled Thailand in 2007 and fell in love with the country. However, because I didn't have a Degree I did not think I could work here. GeoVisions provided an option to teach without a degree and a placement service providing I completed a TESOL qualification. Although I was hesitant as I thought this could be a scam it was the best decision I have ever made.
GeoVisions were fantastic in providing me with detailed information and I was impressed by the service they offer. I would definitely recommend them to my friends.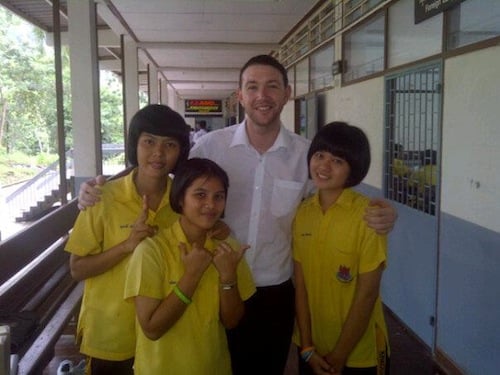 Describe your day to day activities as a teacher in Thailand.
Alex: I teach 16 lessons per week, in addition there are 4 other periods where I play sports, complete activities and additional exercises. In between periods I generally prepare for lessons. Although the school has a curriculum, I am trusted to make my own lesson plans and teach the way I want to. This is helpful as previously the children were taught English in Thai. This means their grammar is excellent but they cannot speak. Therefore lessons are concentrated on vocabulary and conversation. As the students develop other aspects such as listening and writing will be introduced.
How has this experience impacted your future?
Alex: I can't completely say at this point in time. I planned to stay in Thailand for at least 1 year and then maybe move to another country, but the school I teach in, which is called Khao Chai Son, is treating me fantastically well. I think I may stay until 2014, and then I would like to teach in Brazil for the year of the World Cup. But I am being flexible about it all and not worrying too much. Thailand is so laid back and peaceful so I may stay here for life... I just don't know.