Why did you decide to teach abroad with GeoVisions in Thailand?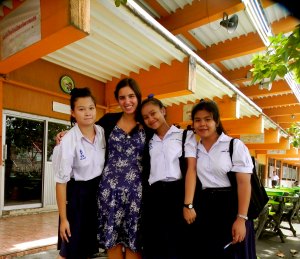 Carla: It is my last semester of college, everyone around me is freaking out about life after undergrad. While everyone is studying for their finals, I am looking up destinations to travel. Most of my classmates are inquiring what I am doing once school is over. Travel the world, I tell them. I get a lot of frowns and condescending responses. Everyone around me seemed to have it figure it out, or at least pretended to have it figured it out. I needed to change my story. I didn't want to jump straight to graduate school, or spend my 20s in a cubicle. I wanted adventure. I wanted to travel. A friend of mine was teaching English in Thailand, all it took were a few facebook messages and a she had me hooked. I made the decision to teach English in Thailand on February, 2012. I began working 3 jobs to pay for the program fees, visas, and my flight to Thailand. I left Maryland the first week of August (2012) and have not been back since.
What was the most interesting cultural difference you encountered?
Carla: During my first week in Thailand, I was called "fat." My students and co-workers often times called me "big." Soon, I learned that if you don't look like a baby tree, you are considered, well - fat. Thai people put a lot of emphasis on skin tone and body weight. The whiter their skin, the better they look. It always amused me to see my students carrying umbrellas and wearing long sleeves during sunny days, you know, to protect their skin.
Thai people love holding microphones. Give a Thai person a microphone and he/she will talk, sing, and make jokes the whole afternoon. They love to karaoke, and they loved hearing me sing Lady Gaga songs.
What was the hardest or most challenging part of your experience?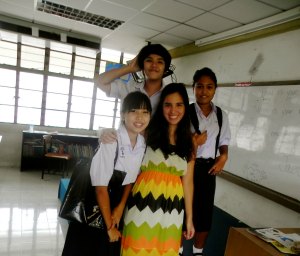 Carla: The hardest part of my experience was leaving Thailand. It was really hard to say goodbye to my students and friends.
Who was the most memorable person you met?
Carla: Making friends on the road vs., making friends at home is completely different. At home, I have a solid group of friends. Traveling solo pushed me to make friends everywhere. I have met memorable people while backpacking Thailand, on the train, bus stops, crossing borders, and super markets. I encountered all sorts of characters on the road, good and bad. One of the most memorable people I met was Waldo September. I met him in Hua-Hin during out first week of orientation. He was part of my TESOL group. We became best friends. He lived in a little town, Satuk, 5 hours from Bangkok but it didn't stop him from visiting me every chance he could. We experienced a roller coaster of emotions together. He means the world to me.
What do you miss most about Thailand?
Carla: I miss little things, like the way fruit ladies chop pineapples. I miss the crossfit gym I attended while living in Bangkok. I miss seeing my students during morning assembly. I miss the way their face lit up when they saw me enter school. I miss eating street food, sharing food with strangers, and taking pubic transportation. But overall, I miss the friends I made in Thailand.