Why did you decide to volunteer with Eco Volunteer UP in Ecuador?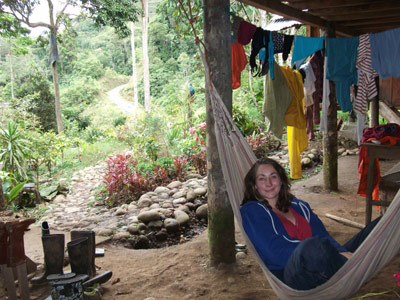 Rachael: I decided to volunteer with Eco Volunteer Up as I'd never travelled to South America before and aside from my flights, the whole trip as organised for me. This was reassuring and much easier for me!
Describe your day to day activities as a volunteer in Ecuador.
Rachael: At Sacha Yacu we were up and dressed by 8. The first task was to prepare the food for the animals. Each morning you chose which animals you wanted to feed which was nice. We then went in our groups with the buckets of food to the enclosures. We would clean out the enclosure and then replace the water and place the food around the enclosure for the animals.Some animals would have to be put into a trap-cage before we entered, but with the birds, monkeys and tortoises we could go straight in and could handle them too.
After feeding we would help to extend enclosures, build wooden houses for the animals or go "extreme gardening" in the centre's back garden amongst the papaya, coconut, lemon, lime and banana trees. After lunch we had a rest and then the afternoon was more work helping the family unless it was raining in which case work would have to cease.
What made this experience unique and special?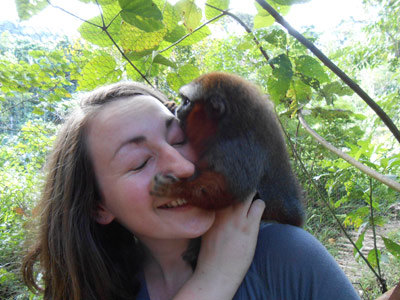 Rachael: My time at Sacha Yacu was amazing. I spent a month there which gave me the opportunity to get to know the animals, the family and to improve on my rusty GCSE Spanish!
How has this experience impacted your future?
Rachael: Being at Sacha Yacu has definitely given me more of an interest in animal conservation, fundraising and working with animals. I have recently been volunteering at a cattery but I miss the more wild species from the centre in Ecuador.