Why did you decide to volunteer with Eco Volunteer UP in Educador?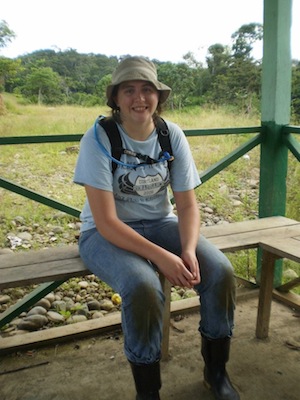 Janelle: My closest friend and I were both Biology majors during undergrad and had begun conducting research. She came to me one day and said "I want to go to the Galapagos, I want to start where Darwin was." We found Eco Volunteer Up online and planned out or trip to include Ecuador and the Galapagos Islands.
Describe your day to day activities as a volunteer.
Janelle: I spent two weeks in Shiwakucha and two weeks in San Cristobal, Galapagos.
During my time in Shiwakucha, my daily activities were clearing trails through the rainforest, harvesting yucca (cassava) roots, building gardens, and teaching English.
While on San Cristobal Island, we worked at clearing invasive species, maintaining the garden, and cultivating native species. We also worked with local children, teaching them about the plants, teaching English, and providing hippotheraphy. One day, the veterinarian came out to administer de-worming medication to the herd of cattle at Hacienda Tranquila. I was able to help rope and restrain each cow while the veterinarian treated them.
What made this experience unique and special?
Janelle: This was my first international volunteer experience and the Eco Volunteer Up staff ensured that everything ran smoothly. I will never forget the time I spent in Ecuador. My host family in Shiwakucha has become my extended family and if I ever return to South America, I will visit them to see how the kids have grown. While in San Cristobal, we lived in housing with other volunteers, but I will always remember the wildlife that I was able to observe. I swam with sea lions and sea turtles, walked alongside giant tortoises and watched frigatebirds, pelicans, and blue-footed boobies fly overhead.
How has this experience impacted your future?
Janelle: Volunteering in Ecuador allowed me to experience another culture, learn a new language and really understand what one needs in life. My host family of eight lived in a small house that had electricity, but it was only used to keep food cool and light the house. There were no constant text messages or Facebook updates. I was able to truly connect with people because of how disconnected I was to everything else.
This trip also taught me the importance of being bi-lingual. I could not speak Spanish before this trip and learned only basic phrases while I was there. Now one of my goals is to learn Spanish so I can better communicate with Spanish speaking clients and community members if I travel internationally for veterinary work.