Why did you decide to study abroad with USAC in San Sebastian, Spain?
Brent: The cultural connection USAC has with their programs in the Basque Country is unparalleled. From the time I first walked into their office, I was greeted with bright smiling faces and could feel the care they already had in my interests to experience the world. I soon found the prominence USAC has in their Basque program sites after arriving. Nearly every local knew who USAC was, and each I encountered accommodated their lives to make sure my experience in their homeland was one that would live with me until the day I lay to rest.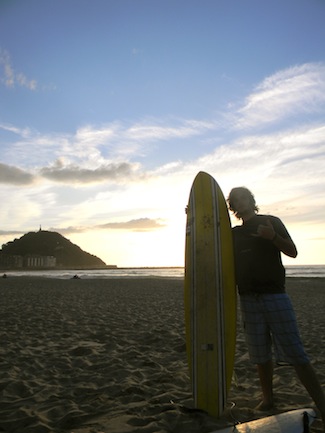 What made your study abroad experience unique and special?
Brent: It was the students who became my friends. It was the staff that became my family. It was the Basque Country that became my home. Years before studying abroad, I use to wonder why any person would ever choose to leave the United States. After a few weeks in San Sebastián, my heart had evolved. My mind and opinions of the world were forever changed. My global awareness grew. USAC taught me all of these aspects of life. Through their preparation before I departed, and the USAC staff at the University of the Basque Country, they taught me more than their language, they taught me how to understand our humankind.
Describe an example when USAC went above and beyond the call of duty to ensure you had a great experience abroad.
Brent: Our first trip to the Sideria in our Basque Cuisine class was when I first began to loosen my guards on the world, and take in this foreign land as my own. The Basque chef who taught the course revealed to us food was more than a tangible piece of our life, but that it is an experience. With each gasping breath we take, our moments must not be taken for granted. By taking us to the Sideria, and going outside of the classroom to learn of the cuisine, we were able to see not only the significant part food and cider play in the Basque culture, but were able to comprehend the aspects of our own culture that make us who we are, and ultimately, what are world is.
How has this experience impacted your future?
Brent: Before my studies abroad, like a leaf's stem blowing in the breeze, my perception of the world was narrow, cold, and lost. But as the spring of 2011 dawned upon my existence, I discovered a new person. My soul is now warm and open to the world of which we live. My mind is wide as the ocean's horizon on a day filled with the sun's shining rays. I'm found. Personally, the experience helped me discover the individual who was lurking within me. Professionally, I'm now aware of my capabilities and that my potential, like the Atlantic horizon I now call my mind, is endless.