Spain: Bilbao & Getxo - International Business and Spanish Studies
Term
Academic Year, Fall, Spring, Summer
Need-based funding, Merit-based funding, General grants/scholarships
View Other Details

Program Details

Housing

Apartment

Host Family
17 travelers are looking at this program
USAC welcomes students to come study abroad in Bilbao/Getxo, Spain at the University of the Basque Country! Located to the north of Spain, Bilbao is nothing short of a modern city labeled a cutting edge banking and service center, with attractions including world class museums, galleries, music halls, and not to mention its first rate public transportation. San Sebastian offers a unique view into the diversity of Spain and a truly multicultural experience with over a third of the city speaking both Spanish and Basque.
Coursework at the University of the Basque Country includes Engineering, International Business, Spanish/Culture studies and Spanish/Basque language. The Bilbao/Getxo program is geared towards those looking to pursue a bilingual and/or an international business career.
There are LGBTQIA+ friends, colleagues, and allies throughout the world. However, cultural understanding of gender identity and sexuality does vary from country to country. USAC has compiled a lot of resources to help you through that learning process.
USAC is dedicated to working closely with students with disabilities to ensure the best study abroad experience possible. You may request reasonable accommodations after your initial application is complete. We routinely receive requests for scheduling, material, and environmental accommodations for the classroom setting, which may include assistive technology, scribes and readers, printed material, and interpretation.
Environmentally-conscious students choose USAC because many of our programs are held in some of the most sustainable countries in the world. There are options to take coursework in sustainability and the environment, as well as field trips and studies where students can leave a lasting impact on their host country.
Program Highlights
Live in a dynamic, cosmopolitan city on Spain's northern coast, one hour from the border with France and with connections to major European cities
Enjoy many opportunities for inexpensive outdoor activities such as surfing, horseback riding, hiking, and cycling
Intern in management consulting firms, publishing companies, NGOs, the Guggenheim Museum, and more
Join our teaching assistantship program to gain work experience at local schools while earning money
Study International Business, which may be taken separately or in conjunction with language studies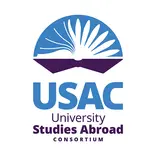 USAC Scholarships and Financial Aid
USAC awards over $2 million in scholarships and discounts each year to assist students with their study abroad expenses.