Why did you decide to volunteer with Volunteer India in children?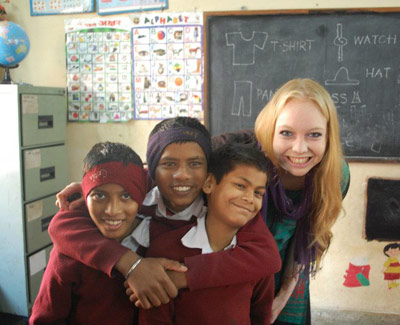 Alex: I decided when I was organising my trip to India that I wanted to perform some service and give back to the community. I did some research and found the opportunities provided by Volunteer India to serve and experience new and exciting culture. I was also particularly interested in helping the children in India as I had recently learnt of the plight and hardships experienced on a daily basis.
Describe your day to day activities as a volunteer in India.
Alex: Each morning we woke up and had a delicious breakfast prepared by our host family; hot chapatti and dipping sauce. Then we would usually go off to explore the streets of Jaipur for a few hours. There was a big market right next to our house where ladies in colourful saris were selling chilli, eggplant, mangoes and also vibrant orange flowers in giant piles. While we were volunteering my friends and I took the afternoon classes, so we were picked up by our lovely tuk-tuk driver Totram ji at 1 each day.
We would then head to Taabar which is a safe-house and school for young boys who have no families to look after them due to a variety of circumstances. A few of them had been involved in drug trafficking and prostitution from a young age. We usually started with a maths class, teaching the boys basic counting, adding, subtraction which was a challenge as they were all at such different levels. We would then do some English practice, usually teaching some new words and drawing pictures and then making it into a game to help their memories, which was always great fun! Last for the day was dance class which was the highlight of each day, we taught some moves, they taught some moves and we all shared some laughs. After class we be picked up and taken back to our home, there was usually time to go out for an afternoon explore the colourful streets of Jaipur before dinner.
What made this experience unique and special?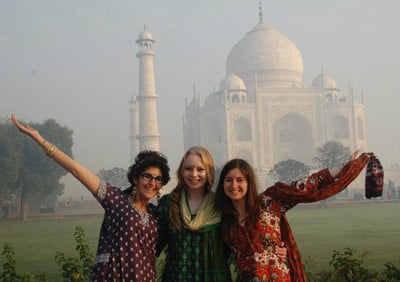 Alex: The amazing opportunity of volunteering with such passionate people, Ramesh who runs Tabaar has dedicated his life to this project. It is a project that is really transforming these children's livelihoods and giving them future possibilities. Also the staff of Volunteer India welcomed us to numerous celebrations during our stay making us feel like family. We attended a wedding which was an amazing 3 day affair! We dressed up in new colourful skirts, scarves and glittery bangles and joined the wedding party as they danced through the streets with a brass band and the groom on a white horse. On the day of the Jaipur kite festival we spent the whole day on the rooftop drinking chai, eating samosa's and flying and cutting kites, a day I will never forget!
How has this experience impacted your future?
Alex: The week I spent volunteering in India changed me in many ways, one of which was to encourage me to pursue new and different volunteer experiences. It has also given me confidence in my own ability to tackle hardships and adapt to widely varied circumstances. I was unsure when leaving Australia of what was ahead, but once I had arrived I immediately was settled in with my lovely host family, and from there it was smooth sailing. I will no longer take things for granted and will be aware of my own potential, and responsibility, to help those in need.