What made this volunteer abroad experience unique and special?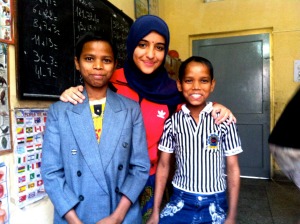 Sara: My volunteer experience was indeed one of a kind and exceeded my expectations in each and every aspect!
Not only did it allow my first acquaintance with solo traveling, but it also exposed me to several ways of making a difference through simple, seemingly inconsequential acts.
When I announced my project to my family and friends, many people advised me not to take part in this trip. They would then back up their arguments by referring to my age or to how nasty India can be for a minor to go there alone.
Fortunately enough, I have managed to give them another insight.
In fact, the maturity I gained in less than three weeks is so incredible that I would recommend this program to anyone who is seeking the adventure of a lifetime, and especially someone who is willing to help, appreciate and grow.
Describe your day to day activities as a volunteer.
Sara: This is the schedule from Monday to Friday.
I would usually wake up around 7:30 and have breakfast at 8:10 ish. Then Toto (surname of Tuk Tuk driver) would pick me up at 8:30 and take me to my project site.
I would spend the morning with the kids teaching them basic english and mathematics, and organizing creative and fun activities every now and then; these include dancing, singing, drawing, henna tattooing, storytelling, etc...
All my students were boys whose ages varied from 6 to 16, so I had to take into account the significant age difference while interacting with them in order to please everyone and organize classes on an equal basis.
After a productive morning I would get picked up again at 1:30 pm by the same Tuk Tuk driver and head back home.
We would often stop by a chai place on our way there to relax and discuss the outcomes of the day.
Lunch was served by the host family until 2 pm, followed by free time to wander around, go shopping and explore the Pink City, until dinner at around 9:30 p.m.
Saturday and Sunday are free as well and I personally took advantage of my weekends to travel outside Jaipur and explore the other splendors the state of Rajasthan had to offer.
What was the most interesting cultural difference you encountered?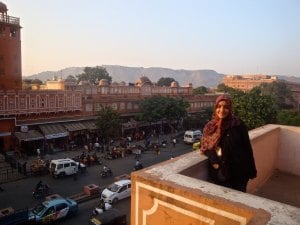 Sara: The first thing that struck me when I got to India is the incredible density of traffic.
I thought that after having been accustomed to the crazy traffic in my hometown Casablanca, no other roads in the world would ever scare me. India definitely proved me wrong.
In fact, Indians drive very chaotically, and therefore they must honk repeatedly when they are overtaking someone, turning , or when a vehicle gets too close that it sometimes even hits the car (which occurs quite often).
The result is that the honking is almost everywhere and it becomes complicated to enjoy the landscape serenely. Anyway, I got used to it within the first days.
Adding to the lot are the many bicycles , motorcycles, tuk-tuks, and ... camels and horses! Besides of course the famous sacred cows that roam wherever they want to, especially in the middle of the road.
In short, there was a great anarchy on the roads; a perilous anarchy but one that ended up being joyful, as the roads offered me to see amazing shows that sometimes made me laugh hard and other times made me shudder harder...
What was the best moment of the entire trip?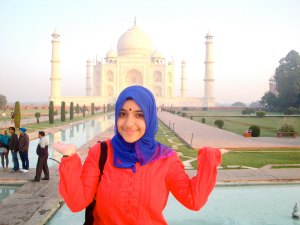 Sara: Apart from the everyday joy of teaching incredibly talented and driven individuals, I would say my visit of the Taj Mahal was very special to me.
Of all the monuments that I've visited, the Taj Mahal is by far the most beautiful. It really does not betray its reputation...simply exquisite beauty!
I loved watching the rising sun reflect on its white marbles, and the soft shadows outlining its dome and remained subjugated at the perfect symmetry and all the walls studded with elegant calligraphy.
In my second week, I also had a chance to attend the program director's wedding, and that was a special experience as well.
Tell me about one person you met.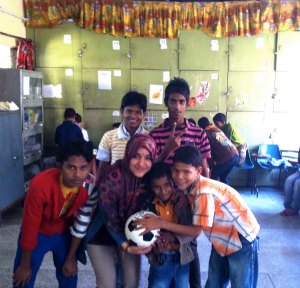 Sara: Although I promised myself not to make any preferences among my students, I ended up building a closer relationship with one of the boys, a 6-year-old whose cuteness, sympathy and cleverness almost surpassed anyone else in the classroom.
He spoke no English, however, we could communicate through signs and smiles, and that was already enough for him to make his way into my heart.
On my last day, I got very emotional because every time I approached the door he would run and grab my wrist and take me back to class, speak some words in Hindi and then tell me: No, No!
I still have no idea where I got the strength from to face such a heartbreaking situation that so many volunteers go through as well.
I hope I can somehow meet this boy again in the future.