Why did you decide to volunteer with Love Volunteers in Cambodia?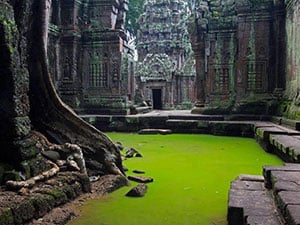 Aileen: I always wanted to volunteer overseas. The program offered by Love Volunteers is related to my interest in legal studies and its price is reasonable compared to those offered by other organisations.
Describe your day to day activities as a volunteer.
Aileen: Main day to day activities: drafting speech for my co-ordinator; observing human rights conferences/workshops/protests and issuing statements/reports following those major events; conducting legal research on given topics (e.g. international conventions) and communicating the significance of which to my colleagues by way of presentation to enhance their understanding of international law.
What made this experience unique and special?
Aileen: The volunteering experience provided me the chance to see what's really going on in Cambodia. I got the chance to attend national conferences, meetings, visit the Khmer Rouge Court, meet local human rights workers and talk to international judges and lawyers. Networking with like-minded people from different background certainly gave me a better understanding of the obstacles stood in the way of human rights development and what were necessary to improve the situation.
I even had an opportunity to observe protests carried out by victims of human rights violations in front of the Ministry of Justice. Seeing how some of the major human rights stories unfold and how human rights violations impact on ordinary Cambodian's lives with my own eyes is entirely different from reading them on new papers and reports. In short, volunteering in Cambodia made it possible for me to contribute to the local community in the field of human rights. And the six-weeks experience broadened my horizen and made me a more open-minded person.
How has this experience impacted your future?
Aileen: My experience in Cambodia is more than a fancy thing to add to my resume. Now that I have acquired better understanding of the human rights situation in Cambodia, and what can be done possibly to improve it, I'm considering paying regular visits to Cambodia as a volunteer lawyer after I'm admitted to practice in Australia.