Why did you decide to volunteer with ABV in Peru?
Ciara: I graduated college and always knew I wanted to travel and make some kind of difference or impact on the world outside of my tiny world. So I made it my first priority to find a program that would allow me to do this in a safe situation and that didn't cost me an arm and a leg, seeing as I was paying for it myself. So I looked into Peace Corps. for a long time, I even filled out the application but never sent it because it was such a huge commitment.
A family friend invited me to join him on a trip to Haiti to volunteer at a special needs home. I instantly fell in love. When I got back I started seriously looking into volunteer programs. The programs all seemed too expensive but I heard about Abroader View and looked into it and emailed them. they got back to me instantly.
They were great, any question i had they would answer me back within an hour. They made me feel comfortable. I choose Peru because the Costa Rica program was filled for the time period I had in mind. I'm so glad I ended up there because I met the most amazing people I have ever met in my life.
What made this experience unique and special?
Ciara: My experience in Peru was completely different than my trip to Haiti because of the people I met and worked with there. I worked at a girls orphanage in the mornings and a clinic in the afternoon with special needs children. My host family were so absolutely amazing and they made all the difference because it didn't feel like I was in a foreign country. My fellow house mates (some Abroader View volunteers) were the best people I have ever met and I shared the most amazing things with them and had a lot of happy and some sad times together.
How has this experience impacted your future?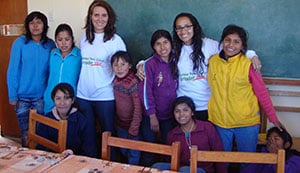 Ciara: Oh where to begin. This experience has impacted me in so many ways, its hard to just pick a couple ways. Personally, the experience has made me so appreciative of my family and all my friends and my life in general. I've always had a great appreciation for the life around me. But Peru made me that much more appreciative.
I got to work with girls who didn't have family or had families that didn't care about them at all. To see these girls and have an impact on them and have them beg us to not go broke my heart. They were the sweetest girls and full of love and only wanted someone to show them that they had potential. The children at the clinic were beautiful and taught me what true happiness is. All they needed was someone to be silly with them and to be loving because they didn't have that kind of affection.
Professionally my volunteer experiences have made a difference in where my career is heading. I never thought that I would be a one on one aid for a little boy in the first grade. I'm also going to start my masters in Speech Therapy sometime next fall. Because of my time at the girls orphanage and from teaching them English I realized that could be a good speech therapist. This is something I would've never thought I would be good at. So without my experiences I wouldn't have been able to discover this within myself.