Why did you decide to volunteer with Rustic Pathways in Australia?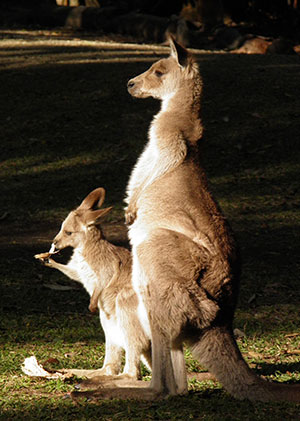 Emma: Well, I found Rustic Pathways through Facebook actually, and after looking at their website I really loved how much they seemed to promote a good travel experience for teens. I chose Australia specifically because I have always wanted to go to Australia and the Australia Zoo since I was little.
Describe your day to day activities as a volunteer.
Emma: As a volunteer at the Australia Zoo, I was rotated throughout multiple "stations" or sections of the zoo. One day I was in the Koala exhibit, one day I was in the Kangaroo and Wallaby exhibit, one day I was in the Aviary section, and one day I was in the Kid's Zone or petting zoo. Each day would include about 6 to 8 hours of work. Another duty as a volunteer would be to work as an usher for the Croc Shows at the Crocoseum.
The first day at the zoo as a volunteer was just spent walking around with the volunteer coordinator so we could get familiar with the grounds and get introduced to the zoo itself. Most of the volunteer activities included cleaning enclosures, preparing food, and interacting with the visitors of the zoo. It was such a great experience!
During our breaks or on our "day off", we would get to see what the zoo had to offer, including animal encounters. While I was there, I got to hold an alligator, a python, a koala, a tasmanian devil, a red panda, and pet a cheetah. All of which were amazing! I could not have asked for a better volunteer experience.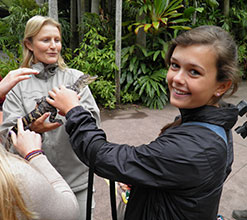 What made this experience unique and special?
Emma: This volunteer experience was unique because it was at such a well known place and it had so many hands-on opportunities. To even set foot in a place that you know Steve Irwin pretty much built and put his heart and soul into was unbelievable.
How has this experience impacted your future?
Emma: Volunteering at the Australia Zoo pretty much just confirmed my love of animals and the fact that I wanted to work with them in my future career. Personally, it also made a massive impact. Being immersed in another country and volunteering there as well changed my outlook on a lot of things and prepared me more for my future.