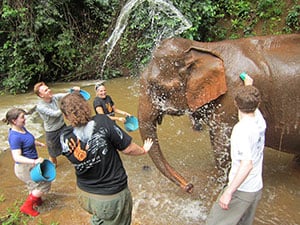 Highlights: It is so difficult to pick one thing that stands out more from the others. I loved every second of my experience, from the moment I stepped off the plane to the moment I got on to leave. There are however, a few really unique experiences I will describe.
One night at the end of our program, a few of us ended up at a roof top bar that just happened to be one of the tallest buildings in Siem Reap. We all had the day off the next day, so this was our night to party; the owner of the joint let us stay up on top of the bar until 8 in the morning, and we all watched the sunrise over the entire city. It was absolutely amazing, and an incredible way to say farewell to the group!
At the elephant refuge, there were two recently rescued elephants named Doe and Darling. And we were some of the first volunteers to ever have contact with them. It was quite sad, because every time someone would hold up their hand to stroke their faces, they would flinch away in fear of being beaten. After being there for just one week however, working with them every day, feeding them, washing them and just being near them. By the time we left they were no longer afraid of people!
It was unreal seeing the change in these two elies just in the time we were there, and knowing that I had contributed to their progression in such a direct way, is an incredible feeling. When the elephants are comfortable around people, they are so much more receptive to being taught how to survive in the wild, so was really cool bringing Doe and Darling one step closer to that freedom!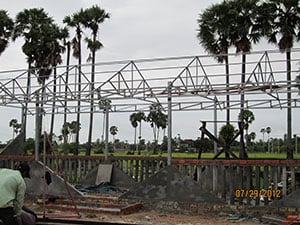 Morning: Village: It's an early rise in the morning of Siem Reap (about 6:30-7 am), provided breakfast and then off to the village to start work by 8. The village is about a 15 minute bus ride away from the city and is a beautiful ride. Mostly through farms and small communities. Upon arrival at in the village, you will be bombarded by about 20+ kids who are absolutely ecstatic that you've arrived! They are screaming laughing and jumping up and down; climbing all over you, its really adorable. Then from 8 - 12 you work on your specific projects. This may be building a home, or working at the school. All of the people are so welcoming and so happy for you to be there; you are immediately absorbed into the culture and are a part of that community.
Elephant Refuge: On the refuge, your up when the sun is up! 6 am start and its off to the most delicious home made pancake breakfast you have ever tasted; the coffee there is out of this world. Then you will be divided into groups and depending on the assigned schedule, either spend the morning working with elephants, or on the habitat rebuilding initiative. "Elephanting" is all hands on: feeding the elephants, cleaning them etc. The habitat initiative is maintaining their environment by, planting bamboo fields for them to eat, cutting and preparing banana palms to feed to them in the afternoon etc.
Afternoon: Village: It gets pretty hot in Cambodia, so every afternoon is accompanied by a 2 hour siesta! Here you have two free hours from 12 - 2 to take a nap, play with the kids, tour the village etc. The kids are so eager to learn from and play with you, every day you'll find yourself in a soccer game, or a dance class! Then from 2 - 4 you will finish up the days work, put away all of the materials and are on your way back to the city for 5 pm.
Elephant Refuge: The refuge also has a siesta (12 - 2), but the stunning vertical landscapes that your trekking through will almost defiantly have you napping! Lunch is shortly after, and I must boast the quality of food here is just amazing! It's an all you can eat buffet of stir fry's and fresh fruits. Then in the afternoon, the schedule is reversed and you will either be doing "elephanting" or habitat restoration (so you do both every day and the schedule flips every day).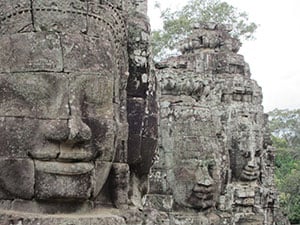 Evening: Village: Dinner is in the night market (city central of Siem Reap) as a group around 6 pm. Then you have free time! The night market is about a 7-10 minute walk from the guest house and is a huge network of shops, pavilions and bars stretching across blocks and blocks. Barter trade is used, so it is fun and exciting to wander through the market, debating price tags and practicing your Khmer (local language). I have to recommend "Pub Street"; this is one street in the night market, and the entire street are awesome bars and night clubs. Have a blast, but make sure you can still get up and work the next day ;)
Elephant Refuge: After returning from the afternoon sessions, you'l be ready to relax. Once again, a buffet style dinner and then free time from 6 pm to chill in the refuge lounge. The lounge is awesome; equipped with bean chairs, sofas, guitars and the most gorgeous view over the Cambodian jungle valley. Sit back, have a beer and chill out watching the sunset. This is where things get really fun! There are one or two generators on site that provide electricity for exactly one hour after sunset each night.
This is "go time"; make your beds, change and prep for sleep, because after two "warning flashes" of the lights and you are swallowed by complete darkness (bring a torch!). One night i got caught without a flashlight whilst on the toilet, when the lights went out haha! You may even have the privilege of seeing a lighting storm; we did and it was the most amazing light display I have ever seen, not to mention the unbeatable stars on clear nights! Then you will crash after working so hard and will have the best sleep of your life, being sung to sleep by the sounds of the jungle.