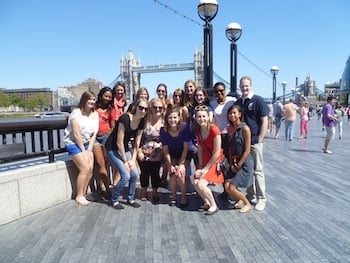 Why did you decide to study abroad with IES?
Christine: I chose IES because not many study abroad programs allow students to have the opportunity to have an internship abroad. The program I chose, fit my schedule well since I am a collegiate athlete and have various leadership roles within the organizations I am a part of as well. The IES staff was also extremely helpful in getting me ready for my departure and the London IES staff was also helpful once there. The program was phenomenal and I would recommend IES to anyone wanting to study abroad.
What was the best place you visited outside London?
Christine: I really enjoyed going to Edinburgh, Scotland and Cambridge.
What is one piece of advice you'd give future IES-London students?
Christine: I would make sure you pack accordingly to the weather. Summer is colder than you think and yes, it is true, it rains quite often. Making a bucket list of things you want to do during your time abroad is also a good idea. I guarantee that people from your program will want to do some of the same things you want to do and you should also be open to their ideas as well.
Describe your program socially and academically.
Christine: Academically, I attend one class one Fridays at the IES Centre about leadership. We learned about interacting with different cultures at the workplace and discussed our experiences at our internships as well. The other four days of the week, I went to my internship at the Royal Academy of Arts. My workplace was very diverse and I enjoyed everyone I worked with and felt that the experience I got there will carry over into my future career. Outside of work and class, I hung out with the 16 other people in my program. We all became as close as a family within a week. Even our professors were shocked at how close we were by our first class. I still talk to most of the people in my program quite often. We traveled around Europe together and even just within the city of London itself. There was always someone to hangout with and always something to do somewhere within London.
Favorite souvenir?
Christine: I think my favorite souvenir is the mini Olympic Torch I purchased. The reason for this is because not only were the Olympics happening around the time I was there, but when I went to Cambridge, I had a chance to hold one of the actual Olympic Torches.