Why did you decide to volunteer with GLA in Ghana?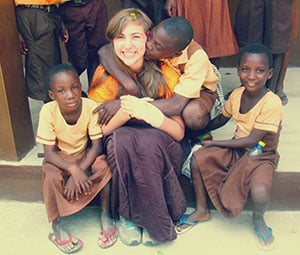 Jamie: I decided to volunteer with Global Leadership Adventures because based on reading their website and speaking with coordinators and alumni, it was clear that the organization was making a big impact on those who had taken the trip. The alumni and parents of alumni whom my family spoke with all emphasized how "life-changing" the trip was, and I wholeheartedly agree now that I've had the same experience.
Speaking with alumni and GLA staff in this way was a huge comfort to me and probably one of the reasons I felt so confident about signing up for the trip. GLA makes it so easy to get in contact with anyone you could possibly want to question, and by the time the deadline to sign up was nearing, my parents and I were completely comfortable with the idea of me travelling with them. This combined with how service-oriented the program is made the decision easy for my family.
Describe your day to day activities as a volunteer.
Jamie: On a typical day of service, you'll wake up to a brief group meeting and breakfast at your home base. Shortly after breakfast, you'll take a short bus ride to a local primary school, where you'll spend the morning constructing bricks out of cement, sand, and water with your group. After about two hours of this work, you'll have the opportunity to visit classrooms for another couple of hours to observe and eventually teach.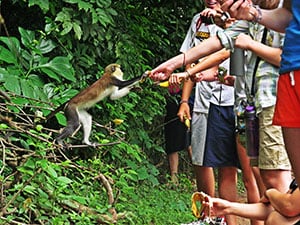 Day to day, you'll be able to visit different classrooms if you'd like, but I chose to stay in the same classroom everyday and found that it was probably the best way to truly build relationships with the students, as on class breaks you have the chance to play with and talk to them. By the time service is over you'll be exhausted, so you'll go back to home base with your group for lunch and a short bit of rest, during which you can relax on the beach, check in with your family at home, or just spend time with the group.
Later, during the mid-afternoon, everyone will leave home base again for a cultural activity. Some of the cultural activities include language lessons, story-tellings, and market trips. If there isn't a cultural activity planned, there will be a visit to one of the local NGOs to meet other volunteers in the area. After this, you'll go back to home base for dinner and another group meeting before bed. This is on the weekdays, but on the weekends there are different excursions where you'll spend a night in a hotel a few hours away from home base. These excursions include the visits to the slave fort, national park, and monkey sanctuary.
What made this experience unique and special?
Jamie: One of the most unique parts of the trip for me was the amount of interaction you'll have with local children. The students in your classes and in the orphanages you'll visit are so eager to speak to and spend time with volunteers. They have incredible joy, and it's impossible to be in any situation with the kids and not be having fun. These relationships, as well as the ones you'll build with the other people on your trip, are what made the trip so special to me.
It's also really nice to be in a group of teenagers who have the same general mindset you do, and everyone in our group had so much in common just because of our interest in global volunteerism. You'll leave the trip with such a changed heart based on how much you've learned from the people living with you and the children you're working with. The best part of this trip for me was how inspirational it was to spend so much time with people who are truly devoted to a common goal.
How has this experience impacted your future?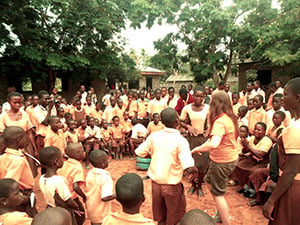 Jamie: Because of the three weeks I spent in Ghana with GLA, I've already started planning a trip back to Ghana this summer with one of the friends I made on the trip. We came into contact with a nonprofit that allows volunteers to teach sexual assault prevention in local schools, and neither of us could resist going back to our favorite place for another summer. One of the students I become closest with during service was actually a refugee from the Ivory Coast, so I've developed a profound interest in refugee services and have been educating myself about civil conflicts since I got back to the states.
As for college plans, I'm planning to major in either international studies or public affairs with a focus in nonprofit management because of my experience with GLA. Travelling to Ghana with this program really just confirmed to me that my life's work will best be served in that kind of setting, as it was the most personal fulfillment I have ever felt. I know that basically everyone who went on the trip with me had similar reactions, and I have no doubt that because of GLA's influence on how we're perceiving the world at such a young age, many GLA students will be radically changing the world for the better through their careers.