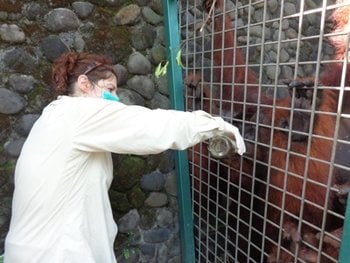 Why did you decide to volunteer abroad with Ecoteer in Indonesia?
Ronna: I had never heard of Ecoteer before, and I barely knew about ecotourism, but they offered this 1 week program on Groupon, and I bought it. I am a huge animal lover, so the possibility of working so closely with a variety of wildlife appealed to me. Admittedly, it was a spur of the moment purchase, but I am so happy I did it.
Describe your day to day activities as a volunteer.
Ronna: The first day of the program, we had orientation and we were handed a schedule. Each day I was to work with a different animal keeper and different section of the Rescue Center, so I could learn about all the animals on the premises. I really appreciate the well roundedness of the program and the staff's concern for my well-being (both in terms of food provided and comfort level). In fact, they treated me like an honored guest and did everything possible to make sure I had a good time.
Typically we would clean cages in the morning and then feed the animals their first meal. We would adjourn back to our rooms and have lunch and some down time. In the afternoon, we would go back and feed the animals their evening meal and then were free for the night.
In addition to the animal activities, we also prepared for an English class for the local school children as well as one for the local zoo keepers, who are keen on improving their English skills as well.
What's something interesting about Indonesia that the average person doesn't know?
Ronna: First off, and perhaps others may know this, but I didn't, there are over 15,000 islands that make up the country of Indonesia. More importantly, I learned how difficult it is for the Center to transfer an animal back to its native island either for release or placement in a permanent sanctuary. Most of the animals that end up in the Center are either injured or captured by the authorities due to illegal poaching.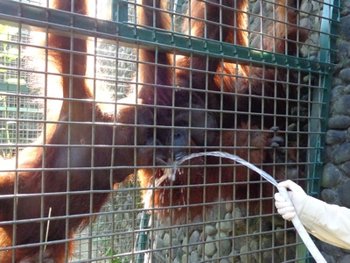 In fact, the main work of the Rescue Center is to release the animals if possible. However, they must first return them to their native habitat, which one would think should be easy since it is all the same country (even if different islands). Unfortunately though, it can takes years for the paperwork to go through. Even though the Center is doing a great job taking care of the animals, they are still not able to return them to the wild or allow them to live in a Sanctuary that is specific to that species.
What was the hardest or most challenging part of your experience?
Ronna: I have to say that even though I am not a vegetarian, feeding the birds of prey LIVE bait (gulp) was a bit tough. Other than that, the staff is really great about accepting your help, but not expecting too much. Given that they are responsible for the care of their section of animals every day, I am sure it is nice to have a volunteer around, but they are quite capable of doing everything themselves. I always felt helpful and appreciated.
What do you the miss the most about Indonesia or your experience?
Ronna: I miss the interactions with the animals since I have never experienced anything like it before. It starts with an early morning serenade from the gibbons (5:30 am) and then whatever the day had in store. Of course, any dealings with the orangutans were beyond fulfilling. In fact, the last day we made tire swings as a cage enrichment project for them. Although we spent a few sweaty hours making them tire swings, it was such a reward to see them playing on them that same afternoon.