Why did you decide to volunteer abroad with Ecoteer in Malaysia?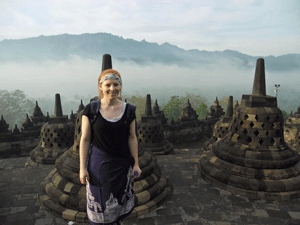 Mallory: I wanted to travel to a place where there are plenty of lush forests, incredible wildlife and plenty of culture to experience, so Ecoteer's Orangutans and Community Education on Java project was the perfect volunteer abroad trip for me.
The combination of working with wildlife at Jogja Wildlife Rescue Center, as well as being allowed the amazing opportunity of helping teach environmental English to kids truly appealed to me, and it was wonderful!
Describe your day to day activities as a volunteer.
Mallory: At Jogja Wildlife Rescue Center, I assisted in providing food and enrichment and maintaining enclosures of a variety of amazing species such as Orangutans, Gibbons, Slow Loris, Mongoose and many others, some of which I didn't even know existed.
Helping Dian with the vet rounds was also lots of fun. Food preparation with Heru was a great opportunity to learn some of the local language.
While working at the center, the animal keepers and other staff also shared with me the unfortunate and eye opening stories of life before rescue of the animals and the steps they are taking towards their rehabilitation.
I also helped teach English to some wonderful children and had an absolute blast joining in on some fun games such as Animal Bingo and spoke about environmental issues. While drawing our favorite animals, the kids also taught me some Bahasa which I welcomed into my very limited vocabulary!
What did you wish you knew before going to Malaysia?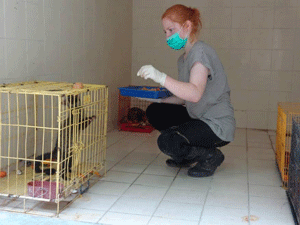 Mallory: Before heading to Malaysia, I wish I had learned more Bahasa! I was so impressed by the amount of English everyone at the center knew that it put my ability to speak in their local language to shame!
Although my volunteer project involved helping teach English, I'm pretty sure the animal keepers were teaching me instead! In addition, everyone always says to pack lightly when traveling.
Being a newbie, I definitely took this advice into consideration. However, I think I took the tip too literally.
I didn't think about how much I would be sweating in the humid weather and didn't pack many changes of clothes at all. Long story short, despite showering and using plenty of deodorant, I was a smelly little volunteer!
What was the best moment of the entire trip?
Mallory: My trip was filled with so many special moments such as waking up each day to the sound of gibbons calling, hand feeding Orangutans honey from a bottle, riding through beautiful Jogja on the back of a motorbike, learning some Bahasa from center staff, visiting Borobudur Temple, helping teach English at Kids Club, eating yummy tropical fruits everyday and delicious traditional Javan dinners, and the list goes on!
How has this experience impacted your future?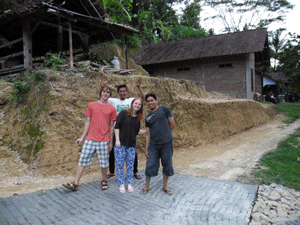 Mallory: The people I met and the wildlife I worked with during my trip were all so inspiring. Participating in a project with meaning made my travel experience all the more worthwhile.
I am passionate about wildlife conservation and have recently graduated in a Bachelor of Environmental Science.
I had no idea just how much I was going to enjoy helping teach environmental English to children prior to my trip.
Now that I am back in Australia I hope to one day gain a role that allows me to share my passion and knowledge of environmental science with kids.