Why did you decide to get TEFL Certified with ITTT?
Faith: When I decided to seriously pursue teaching English, I started looking around for the best available options. Not surprisingly, it took me a while to decide on one, but I can say with certainty that I haven't found anything that comes close to ITTT. Most of the others that I found were impractical and extremely costly. One of the reasons that more or less 'sealed the deal' for me with this course was its flexibility. Because I was working full time while I was taking the course, the ability to work online when I could and just ask my tutor for help if I needed it was a really big plus.
What makes the TEFL course at ITTT unique is that they take you from the basics, teaching you step by step from the super basic principles to the more challenging stuff. In my opinion that really makes the difference, as a teacher who is unsure of the basic principles of grammar or lesson planning is of course not going to be the best teacher he/she could be.
Did you teach abroad? How did this TEFL Course impact your experience?
Faith: Well, I am American, and as a 16 year old I decided that my dream was to travel. I left the US at 17, and moved to Palestine. That was where I began my teaching career. I realized, after talking with some refugee families, that one of their biggest problems was their inability to find decent jobs, because in Palestine the language of business is English. So I started a project to go to the camps and give night classes of English. I realized that I liked teaching, and so my career began from there. Of course, I wasn't very confident as a teacher then, and I really needed to study more. Since starting the ITTT TEFL course I have moved to two more countries, Turkey and Spain, and I've taught English in both countries. The TEFL course gave me the confidence I needed to teach my language. I don't think I would even be teaching today if I hadn't taken the TEFL course.
What is one piece of advice you would offer someone considering an Online TEFL Course and teaching abroad?
Faith: Be prepared for a challenge, and try as much as possible to adapt to the country that you are in. Of course, every country and culture is different and each has its own good points as well as setbacks, so there is no 'one size fits all' advice for every situation. The best tool to have in your arsenal is lots and lots of patience.
Most importantly, as with any profession, love what you do. I've met many native teachers around the world who started teaching English simply because it's convenient. Teaching takes a lot of dedication and effort, and a real love for your students and your job. It goes without saying that the best and most motivating teachers are the ones that really enjoy teaching. Think about your own experiences from school. Which teachers did you like best, and why? Which ones motivated you to study harder and enjoy learning?
Anything else you would like to share?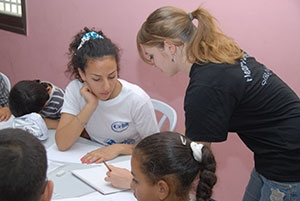 Faith: I can't tell you how important it is to back up your knowledge with a good certification. Even if you are sure that you know a language very well, teaching a language is a completely different and much more difficult scenario.
When looking for an online course, it's vital to know the dangers. There are millions of online scams, and unfortunately some of the sites that seem the most trustworthy will end up being the biggest scams. Even programs that do send you classes will sometimes take your money and give you a fake certification, or even worse no certification at all. ITTT is a program that I will continue to guarantee to my friends and colleagues as program that is safe, affordable, and completely worth it. I really can't reiterate enough how happy I was with this course and really how lucky I feel to have been a part of it.