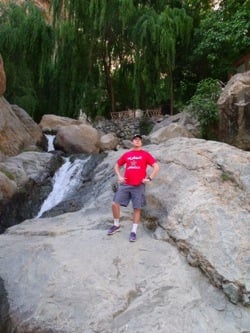 Why did you decide to study abroad with MCAS?
Joe: I decided to study abroad with MCAS when my professor offered a short-term study abroad trip in our Arabic 101 class at Providence College. Professor Brahimi stated that this trip was available to anyone in his Arabic classes and anyone who he believed would be a valuable addition to the group. As a political science major with aspirations for a future in the State Department, I felt this would be a great opportunity to get some travel experience. Looking back on my stay with MCAS, I can say with confidence that studying with MCAS was definitely great experience for anyone who wants to learn about the Arabic Culture and Language.
What is one piece of advice you'd give future MCAS students?
Joe: My one piece of advice for anyone thinking of working with MCAS is to have an open mind. I can say with confidence that there will be many opportunities to have incredible moments that are not on any syllabus. We were touring the Casbah in Rabat when we stumbled upon Fan Farai practicing before their performance for Mawazine, a big music festival in Morocco. We got a great preview of their musical prowess in the intimacy of a 20 ft. room overlooking the Atlantic Ocean and the Oued Bour Regreg, the river feeding into the Atlantic. In Fez, we stopped at a fortress overlooking the city on our way to dinner. The view was one of the best I had seen in my life. These are just a few examples of going with the flow and seeing some great results.
Describe your program socially and academically
Joe:My group consisted of thirteen people: the majority being from Worcester State University. The rest were friends (and in one case a fiancé) of these Worcester State Students, while I was offered this program from being in an Arabic class in Providence College. At first, most of us were polite to each other simply out of respect for the program; however we all became very close friends by the end of our stay. Throughout our time we learned about the culture and geography of Morocco while learning phrases and social cues of the Arab world. In Rabat, Professor Elabdi of the University of Mohammed V gave us an insightful lecture on the political history of the country. Moreover, we were lucky enough to have solid discussions debunking myths between American and Arab cultures with Moroccan students that were in the same age range as our selves. We truly learned much from this experience.
Describe your favorite must-have food that you tried abroad.
Joe: Many people who travel to Morocco will tell you that you have to try the couscous because it is delicious. While they are not wrong I would disagree and say that everyone should try the kabobs of lamb and beef. I am not sure how they prepared these kabobs, but they were by far the best I had ever had. These kabobs were also not just chunks of meat; kabobs sometimes consisted of beef sausages, large lamb strips, and well-seasoned combinations of beef and lamb. I was especially glad about the amount of lamb used because I am a big fan of lamb chops and to see the meat prepared and served a different way was just delightful!