Why did you decide to study abroad with ​the Moroccan Center for Arabic Studies?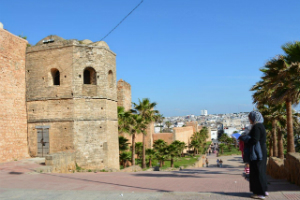 Korinna: I found MCAS online - I had been looking for a possibility where I would be able to use my Arabic. Overall, I feel that I got some good practice. The MCAS Director, Ali helped me in his best possible way whenever I asked him for anything.
What made this ​​study abroad experience unique and special?
Korinna: My homestay with a Moroccan family: I was able to experience daily life in their family, their typical way of eating (which is very different from that of people in Central Europe), their hospitality and friendliness. The housewife was a wonderful cook and the food was delicious!
Describe your program socially and academically.
Korinna: Each day, I had 2 hours of private Arabic lessons in the morning and the rest of the day I went sightseeing and relaxed. I would suggest dressing conservatively and overall respecting the Islam culture. In hindsight, I wish I knew more vocabulary, but I had a dictionary and got along fine. The children in the family even taught me new words! Next time I visit, I will want to be able to speak Arabic a little more fluently.