Why did you decide to go abroad with Cultural Embrace?
Chris: During a study abroad fair I had a discussion with one of CE's representatives and she was very nice. She had mentioned that they were going to start a program where they would send someone on one of their programs and wanted them to take pictures and keep a blog while they were abroad. In return, they would cover the costs of lodging and program costs. It sounded pretty good to me as long as I was going to be able to count it as an internship. I talked with my advisor, whom was awesome!, and she told me that I could perform 2 projects and get the class' worth of credit. It covered everything that I was looking for.
How has this experience impacted your future?
Chris: I think any time I have traveled overseas I have grown as a person. Anthony Bourdain once said that the more he travels and the more he sees, the less he knows. Something like that at least. I love that feeling. Exploring the world and know that I can make it through a summer in a place where not many people speak English. I did pick up a little Mandarin while there, but mostly how to buy things and order food and beer, the important things in life!
This trip was mostly for personal growth, but it did get me more credits than any other internship I could have performed.
Never in my wildest dreams did I think I would go to China. After initial discussions with CE, I just went for it. I'm so glad I did!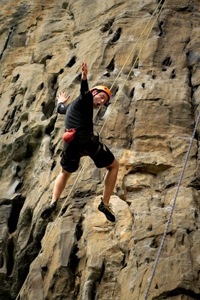 Professionally, this has mostly been a good bullet point on a resume, but depending on what you want to do for a living, this program could be very beneficial. I guess there was a time at my current job when I was talking with a women born in China and I think it help connect us. Talking with Chinese people, they always seemed fairly impressed I can order two bottles of beer.
What did CE do for you and what did you need to do on your own?
I had to book my own travel and pay for that. This included the plane ticket over there and traveling between programs. All of the travel during each program was covered. For example, I flew from Changsha to Chengdu and had to pay for the plane ticket, but the in country contact made the arrangements for me to be picked up. The CE folks gave me clear instructions on where to meet people at the the airports and bus stations. Honestly, it wasn't too hard for them to pick me out. When I got off of the bus in Changsha, I was about a foot taller than everyone and the only white person in the area.
Different programs included different things:
Guilin/Yangshou-most of the food was provided except when I chose to go out and get different things. I paid for beer, which was dirt cheap : )
Changsha (Orphanage)- Everything was included and I ate with the kids. Lots of rice and eggplant. The lodging was good, but I had to wash my bowl (they loaned me a bowl to eat rice) in the tap water, which made me nervous but I never got sick.
Chengdu/Ya'an (Pandas)- I paid for a of my meals and chose to stay in Ya'an a couple of times because the rooms weren't the best at the Panda Reserve. I might just be a bit stuck up though. Dinner was provided there for us.
Yantai (teaching)- I paid for all of my meals and we went on a few trips, which I paid for. I think there was a deposit for the room, which I got back. We at lunch in a cafeteria and it was really cheap.
Describe your favorite, must-have food that you tried abroad.
Guilin/Yangshou- We stayed at a place in Guilin called Flower Hostel, down the alley was a stand that served something called Guilin Noodles. They were thin rice noodles with a broth. Next to the stand was a table that had toppings on it: peanuts, pickled green beans, and chilies. For some reason, I would say this was probably the best thing that I ate in China. I want to go back for that alone. The whole time I was on this section of the trip, I ate really great food. I even got our house cook to let me make breakfast for everyone. I was trying to make fried potatoes and she was very concerned that I was going to damage her pan, so she kept adding water. She didn't speak English, and I don't speak Mandarin, so we had scrambled eggs and soggy potatoes. Another great spot was a place in Yangshou Called Lucy's. they have amazing Duck and Shepard's Pie. Lucy is really sweet too.
Changsha- This, as mentioned above was very plain. We ate either rice and eggplant, or rice and fish. I lost a bit of weight there.
Chengdu/Ya'an- I entered a hot pepper eating contest and got second. That was horrible... The food on site and around Chengdu was great. Hot pot comes from that province, and I think you have to try it. It's kind of like fondue, but spicier.
Yantai- This city is on the coast and when you are at the beach, there are tables that you can sit at. Next to the tables are carts with fresh seafood. They have grills that they will cook it on. Highly recommended!
It's a funny place, China. It's like they will try and copy American food, but they never quite get it right!