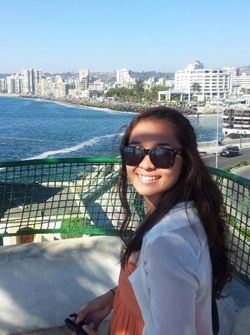 Why did you decide to intern abroad with Adelante Abroad Chile?
Yasmin: I grew up in two different countries: Indonesia and New Zealand. As such, I've always had a strong passion in learning other cultures and languages to broaden my knowledge, skills and more importantly my world perspective. On the last year of my studies at university, I decided to go on an overseas internship after I finish my studies. I thought it would provide an insightful working experience while living in a foreign country to learn a new language, adapt to a new culture and gain an invaluable travel/life experience.
I came across Adelante when I was searching for overseas internship programs online. I chose Adelante Abroad Chile because it provides a program in my field of interest interning in local architecture office in Valparaíso. I have also previously studied Spanish in high school for five years, so I already have some basic language skills. Adelante Abroad Chile programme is very affordable. Additionally, I've also heard that Chile is a very safe country for foreign students to live in (this is true!).
Adelante made it easy for the applicants to ask further details about their programs. I contacted Adelante to make an enquiry about my program, one year prior to the start date. It gave me a better outlook on how the program works and how much I need to save for the whole duration of my program (program fees, flights, spending money etc). Their prompt replies are always helpful and their frequent checks throughout the program when I was in Chile also gave me the support and comfort I needed!
What made this internship experience unique and special?
Yasmin: The whole aspect of this program; the internship, the culture, language and people made this whole experience an unforgettable one. Adelante included a 3-week intensive language course prior to the start of the internship. It was so helpful in improving my Spanish skills to an intermediate/advanced level. This course, which was held at the International Centre in Viña del mar, not only helped me to adapt to the local culture and language (Chilenismos or Chilean slang is very confusing! ). But it also introduced me to many other program candidates and travellers who I instantly became friends with. Every Friday, all of us go out of the school and travel to various places that allow ourselves to immerse with the local culture and practice our Spanish with the locals. This included wine tasting in picturesque Chilean vineyards in Casablanca Valley region and visiting the famous Pablo Neruda's house, La Sebastiana, overlooking the beautiful, hilly Valparaíso.
I made the most of my living experience in Chile by also visiting neighboring countries in South America. I visited the beautiful Mendoza, Argentina (by bus around 8-9 hours from Santiago). I was also lucky enough to visit Brazil to stay with my Brazilian friend for two weeks. We both travelled around São Paulo and Rio de Janeiro. I absolutely loved and enjoyed the various cultures South American countries have to offer.
The great thing about this program is that you get to experience a real, serious internship as a valuable working experience to add to your resume. At the same time they are friendly and flexible enough that my boss allowed me to work overtime for two weeks (full day instead of half day) so I can finish my internship period two weeks early to go travel before returning back to New Zealand.
How has this experience impacted your future?
Yasmin: This experience has impacted me immensely in so many ways. Personally, I have travelled and seen some of the most beautiful places in the world during the duration of my program and have met some amazing people along the way. I established some wonderful friendships with other program candidates, travellers, my Chilean host family, my work colleagues and some local Chileans. All of whom I am still in contact with today. We are now planning to visit each other in our various countries to catch up someday.
Professionally, my internship has definitely helped when I was searching for a job after returning back to New Zealand. Overseas internship is a valuable addition to your resume. It shows courage, commitment and strong personal resilience in quickly adapting to a new work environment and system whilst learning a new language at the same time. I believe that this internship has played a major role in my success in securing a permanent job within my field. I am currently working as a city planner at a local council in my hometown.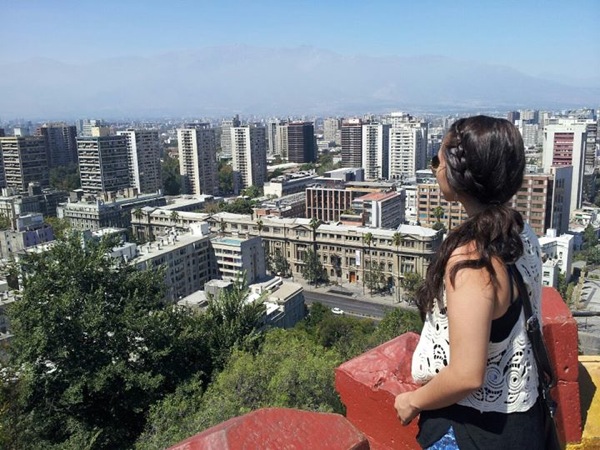 What the advice you would offer someone considering interning abroad in Chile?
Yasmin: Before arriving in Chile, do your research extensively and ask questions when necessary. Is there any internship offers within your field of interest? How much do you need to budget for the whole duration of the programme? What level of Spanish would be required for the internship? Make sure to find out ways to help yourself achieving that level prior to your arrival in Chile. Once you arrive in Chile, the most important advice I can give is to be open-minded and maintain a positive attitude. You must expect that almost every aspect of living there will be completely different to those in your home country and you have to learn how to adapt positively.
At first, you can expect to be frustrated at times when you couldn't communicate clearly to get across what you want to do or understand what they are saying. The main thing is to be patient and take everything in as a learning step. It is worth noting that most Chileans are very friendly and willing to help you when you have shown that you are trying to communicate to them in their language, even if you use very basic Spanish. I have had strangers go out of their way to help me find my way around the streets in Chile.
It is also essential to be outgoing and friendly to those around you, including other program candidates and travellers. They will most likely be your new best friends while you are there. They are in the same shoes as you are, which mean that they would have similar experiences as you and sharing them together is always comforting.
Once you learn to embrace every new experience coming your way while interning, you will have the time of your life!