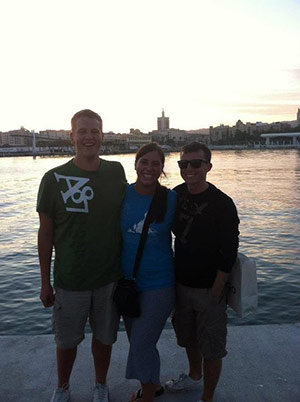 Highlights: One highlight from my time in Spain was my trip to Barcelona. I visited my family's foreign exchange student and got to meet his family. They, like so many people did on this trip, welcomed me into their lives and showed me so much. They showed me around the city, including some of the typical "tourist" sites, but also included me in a family reunion picnic and showed me some of their favorite sites in the city. It was truly an unforgettable weekend, although it really was simple.
Another highlight was nearing the end of my trip, I signed up for a weekly conversation class that ISA offered, but I ended up being the only one for that week, so I got to sit and talk for an hour with my program director, just one of the many awesome people I met on this trip. We talked about how I was planning to use my Spanish skills, newly acquired and prior, what going home would mean to me, what I had learned in Spain, and simply just talked. I realized at the end of the hour that I spoke in Spanish with no problems for a full hour, and understood everything that we were discussing, both literally and the impact they would have on me.
Morning: Monday through Thursday I would typically wake up around 7:00, prepare for my day, and then have my light Spanish breakfast (usually toast, coffee, juice of some sort along with fruit). I took the bus to my campus, which was about a 20-minute ride, and was highlighted by a stretch right along the Mediterranean and featured the sun rising over it. I had my first class, Spanish Literature, followed by an hour-long break where I would stroll on the beach. My next class was Culture and Society, and then another hour-long break where we would get bocadillos (a small sandwich) or tortilla española, and café con leche (espresso in milk).
Afternoon: I had a Spanish Language class Monday through Thursday, then 2 days a week I had a Cross-Cultural Management class. Afterwards I would head home and have my late Spanish-style lunch, the largest meal of the day that consisted of 3 plates, such as soup or vegetables, then some kind of meat, and some fresh fruit as a dessert. I was lucky enough to dine on my host family's terrace, which overlooked the port of Málaga, a simply stunning view. Afterwards it was time for the infamous siesta, which was time to lie down and digest your lunch. After resting for a while some of our friends would meet up at ISA office, which was located in the center of the city, and head around the city.
Evening: My friends and I would sometimes snack on bocadillos or tapas and sip the wonderful Spanish wine, usually until around 9 o'clock. We would eat our dinner, which is a light meal. We typically had soup, salad, and fruit.