Morning: A typical day on our boat, Lady Caroline, would start around 6 or 7am. Each day we would rotate the chefs so everyone got the chance to cook. The chefs would start cooking as the other boat mates woke up excited for they day ahead. We would eat our breakfast and then go for a morning dive usually to get our blood pumping. After a morning dive we would usually have a quick surface interval.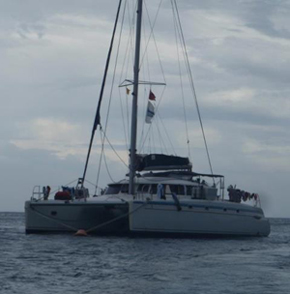 During our surface intervals we could go for a swim, study for any diving or sailing related exams, or just relax on the trampoline. Every three or four days we would sail to a new and exciting place which was always fun because the students got to do the sailing! One of the best parts was when we went into town for a hike or just to see the locals.
Afternoon: During the afternoon or evening we usually went for another dive or just chilled. At dinner, the chefs for that day would cook. After we ate dinner we would have our exams or have a little time to relax and stare at the stars. Around ten or eleven we would set up to go to sleep. While sleeping on a boat was a bit challenge at first, it was amazing after I got used to it. We could sleep under the stars or sleep in the cabins downstairs. My Broadreach experience was amazing and I am excited to do it again this summer!
Why Choose Broadreach? Daniel chose Broadreach because he really wanted to learn how to dive and to see new places from a different perspective. He had never traveled alone before and at the age of thirteen thought he was ready to explore the world without his parents. The Broadreach program he participated in was called Caribbean Underwater Discoveries.