Broadreach: Caribbean Diving and Sailing Voyages
Location
Multiple Locations
+4
St. Martin
St. Vincent and the Grenadines
St. Lucia
Saint Kitts and Nevis
View Other Details

Pricing

What's Included

Accommodation

Activities

Airport Transfers

Meals

Transportation

What's Not Included

Airfare

Travel Insurance
7 travelers are looking at this program
Spend your summer living on a catamaran in the Caribbean with 12 other teens for 3 weeks! Experience the freedom of life on the water and the magic of the world beneath it. Learn to scuba dive and sail, build skills that you'll use for the rest of your life, and bond with a crew of new friends as you island hop through the beautiful Caribbean.
Meet every morning with warm wind in your hair. You and your crew will work together to successfully navigate yourselves through the breathtaking French and Dutch Leeward Islands, earning a variety of scuba and sailing certifications along the way.
Visit Saba's magnificent marine park – the perfect spot to earn dive certifications – to experience the underwater walls and towering pinnacles of Babylon, Tent Reef and Diamond Rock. Take plenty of breaks from sailing and diving along the way to body surf, water ski, stand-up paddleboard and hike through lush mountain rainforests.
Program Highlights
Experience a side of the Caribbean few can see aboard your floating home
Scuba dive with sea turtles, rays, and colorful coral and fish - no experience necessary
Learn to sail alongside a crew of new friends, navigating your way through the islands
Volunteer in Saba to help maintain island trails and protect biodiversity
Try water skiing, wakeboarding and stand-up paddle boarding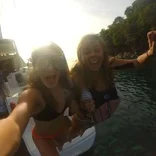 Explore the underwater world. Live on a boat. Make lifelong friendships. The journey is the destination.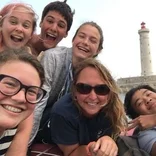 Jump right into this liveaboard adventure to build and use new skills that will allow you to properly explore the wonders of the Caribbean. Experience life on and under the sea with an amazing crew of friends and instructors. Gain new perspectives that will also serve your life on land.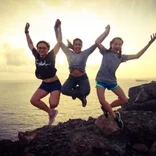 Prepare to surprise yourself. Learn to breathe underwater, get comfortable navigating a sailboat, fall in love with life at sea and become close friends with people you've only known for days. This liveaboard adventure might just change how you see the world – and yourself.