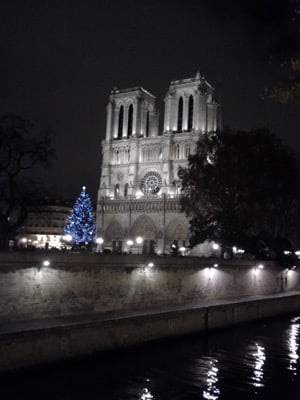 Highlights: The biggest highlight of my trip was the ease in which I was able to travel all over the country. Nearly every other weekend API arranged for a day trip outside of the city; Normandie, Versailles, Loire, and Perpignan were some of the regions we visited. I can proudly say that every time we were near a body of water, I put on my bikini and jumped in, regardless of the season! I didn't travel much outside of the country, but it was so wonderful to be able to explore so much of my host country.


My favorite part of Paris was the brunch served at the Crous at Port Royale on Sundays. It was a weekly gathering amongst friends and other students with bottomless coffee and traditional breakfast foods like croissants, pain au chocolat, eggs, ham, and potatoes. The only thing that disappointed me about Crous in general was that they were usually were out of Sauce Pomme Frites, a mayonnaise-like sauce in which Europeans dip their French fries. Clearly, the lack of Sauce Pomme Frites was an absolute tragedy since such magnificent sauce doesn't exist here in the States.
Morning: I didn't necessarily have early morning classes, but I would wake up around 9am or so to buses honking their horns at people blocking the one-way street, or pigeons flying into my sky lights. I would start my day off right with a bowl of Pépites Croustillantes, a granola cereal with dark chocolate pieces (although pain au chocolat aux amandes was my guilty pleasure from time to time). After making myself presentable to the world, I would head down to the metro and begin my 45 minute commute all the way down the line 14 to Université Paris Diderot; most of the time, I used the commute as a good MCAT study session. I was always rather humored by the people I would see sprinting to catch the train in their business suits and briefcases, despite the fact that during rush hours, you can catch the 14 every minute and a half.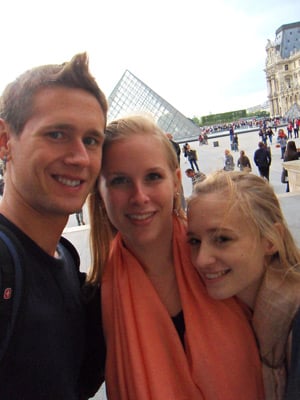 Afternoon: Most of my classes were in the afternoon, so when I got to campus, I would stop by the Crous Caféformule midi, which consisted of a delicious baguette sandwich, fruit or yogurt, and a drink (I usually got Orangina, because I'm a huge fan). As a direct enrollment student at Diderot, I was in regular classes that French students took. I could speak French pretty well before I arrived, so the language barrier wasn't an issue. Actually attending class was the big shocker for me: every lecture met only once a week, but for about three hours. If I had sizable breaks between classes, I would usually stop at the API center to continue working or socialize with the API staff and the rest of the students.
Evening: Having quite a few three-hour lectures throughout the week, some classes would get done in the evening. After class, I'd meet up with a fellow API and Diderot student and we would head to the Crous at Port Royale for our filling 3€ dinner. Most nights, I would stay in my apartment and study, while simultaneously enjoying the view of a beautifully lit Sacré Cœur on the top of Montmartre. Other nights, I would meet up with friends and simply just wander around the city, whether it be passing by the Louvre, La Tour Eiffel, or Notre Dame. Because what's more serene than walking around at night in the City of Light?