Why did you decide to get TEFL Certified with ITTT TEFL in Florence?
Linda: It has always been a lifetime goal to teach abroad. I always noticed the charming lifestyle of people living in somewhat remote and geographically beautiful parts of the world, and was often drawn to the interesting conversations overheard in these different and secluded places. Cultural differences and language were always very appealing to me.
Initially I was looking to live and teach in France, and thus spent time learning French and visiting the French countryside. However, my attention turned to Italy when I became more interested in living and going to school: Florence to be precise! I wanted to experience living as a Florentine! I began my search online and was immediately drawn to the ITTT TEFL website. I was impressed with the depth of information put forth and the thoroughness given in the explanations and information about the school, course, and program. I was equally enthralled with the idea that the school was located in Florence, which everyone agrees is a very special place!
I made some inquiries via live chat and made a call to the Director (Kristin L.) in Florence with questions about the course, the curriculum, the students we would be teaching and other general information about the school.I was greeted warmly over the phone and felt an immediate connection with the school and its personnel. I was hooked!
Yes, this was the right choice. I started excitedly to make plans for the adventure. As a recent graduate I have not as yet taught abroad but am currently pursuing an additional TEFL certificate with an emphasis on working with young children. I may return to Florence when their two week class in teaching young children commences. I am hoping that I will not have to wait too long! I can't envision a better place to revisit for professional and personal fulfillment. I plan to secure a job in the New Year.
What is one piece of advice you would offer someone considering this TEFL Course and teaching abroad?
Linda: If you are passionate about teaching, enjoy meeting new like-minded people, and are looking for a rewarding challenge, then the only advice I could offer is that you are ready for an ITTT TEFL course in Florence!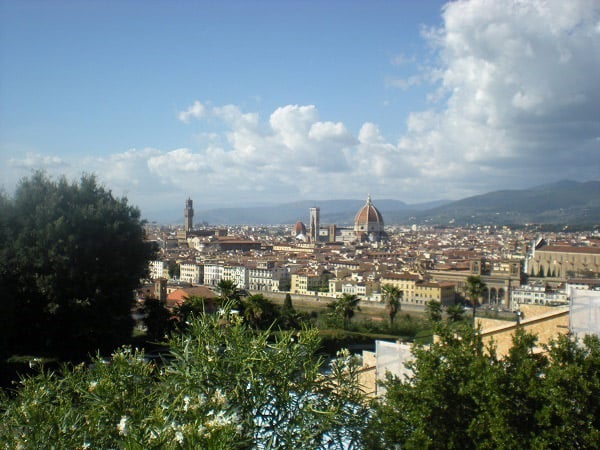 What was the highlight of your experience?
Linda: The highlight of this experience was living as a student in this beautifully enchanting city of Florence. Walking to school each day allowed me the privilege of immersing myself in a warm and vibrant culture set in a backdrop of amazing architecture, art, and natural surroundings. Each day was an adventure in finding special places, getting lost but still enjoying the aura that is uniquely Florence. It was difficult for me to say good-bye, arrivederci!
Anything else you would like to share?
Linda: The time spent in class and at school was always sprinkled with laughter, and we developed friendships, mutual respect, and a sincere interest and care for one another. This bond that I formed with them was enhanced with the genuine warmth and dedication of the Director, Kristin L. We were a team and all shared an ultimate goal of success.