Why did you decide to study abroad with Sol in Granada, Spain?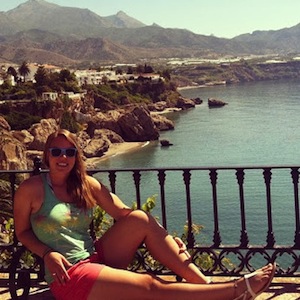 Shelly: One day in my Spanish 101 class a man named Brent came to inform us of an opportunity to study Spanish in a foreign country with Sol Education Abroad. He proceeded to share with us the many things Sol has to offer, such as cultural events, excursions, onsite staff for assistance, as well as the opportunity to live with a host family.
I had always wanted to travel and when I had learned I needed two years of foreign language credits to graduate I had decided that I would study abroad in Spain. This program was sounding like an interesting and viable option so I went to their website to find out more. I also researched other study abroad programs but I couldn't find any that offered as much as Sol did for as low of a price. I finally decided to apply to study in Granada during the summer.
How has this experience impacted you?
Shelly: I gained an amazing amount of self-confidence as well as self-awareness in Spain. I was forced way outside of my comfort zone in unfamiliar territory and found that it's fine to be a little afraid and intimidated, as long as you work to overcome those obstacles. I grew to love Spain and I increased my cultural awareness, learning a great deal about differences and similarities between others' lifestyles and my own.
For example, Americans talk very loudly and Spaniards don't eat a lot of beef. Also I've found that I'm a big fan of siestas and think we should include it in American society. I also greatly improved my confidence in and knowledge of the Spanish language which has served me well in my current position where I sometimes interact with customers who don't speak English. My experience has also fueled my interest in international affairs and has inspired me to continue traveling.
Tell about an experience you had that you could not have had at home.
Shelly: My entire experience in Spain was one that I could never have had at home! I was able to see and experience a whole new way of life that was amazing and new. I loved visiting and admiring the ancient Gothic architecture of the cathedrals and churches in Seville, Còrdoba and Granada. The views throughout Spain where breathtaking as well; I fell in love with the Sierra Nevada since mountains are one sight you can never find in Texas. I loved going out for tapas with my friends, drinking Sangrias and eating all sorts of interesting foods. We also were able to watch some shows for the International Music Festival which were very entertaining and fun. There was incredible beauty all around me and I appreciated every moment!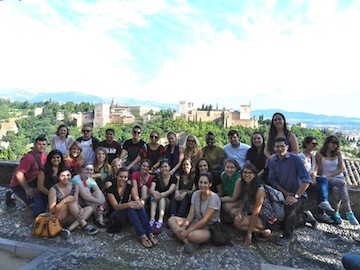 Tell us about any interesting cultural tidbits you noticed about your country.
Shelly: One of the cultural differences that I appreciated most was how important family time is in Spain. Every day, most of Granada would shut down from 2-5 pm for siesta where family member would go home to eat lunch and be with their family for a little while before going back to work. Everything was much later in Spain also; we would eat lunch at 2 pm, dinner at 9 pm and stay out until 4 am! Spaniards are much more physically affectionate and it was very common to see couples kissing all over the place. Friends also greet each other with kisses on the cheeks which I grew to appreciate although it was very awkward at first. People in Spain dress up more on a daily basis as well; I never saw anyone walking around in Nike shorts and a T-shirt unless they were exercising or foreign.
Describe your most meaningful souvenir and why you love it.
Shelly: The most meaningful souvenir I got is a silver ring with pomegranates on it that I purchased from a street vender in el barrio Arabe (Arabic neighborhood). I was glad to have found it because during our excursion to Nerja I had forgotten to take off my ring before running into the Mediterranean Sea and lost it. I wasn't planning on replacing it while in Spain but when I came across this pomegranate ring I knew it would be perfect! "Pomegranate" in Spanish is Granada, so having this ring constantly on my finger is a continual reminder of the city that stole my heart and of all of the memories and people I left when I came back to America.